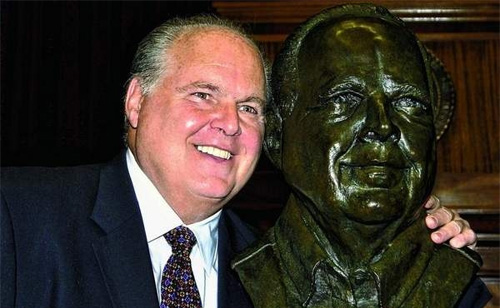 It's no secret Rush Limbaugh is sinking fast due to the public finally standing up to his racist, sexist, lgbt-hating commentary on our public radio. There are nationwide protests, boycotts and petitions, which have all been successful in helping to bring down the vile am talk show host. But here's something many do not know: In 2012, days after Limbaugh's verbal attacks on air calling Sandra Fluke a slut, former GOP Missouri House Speaker Steve Tilley commissioned a bust of Limbaugh to be created and inducted into to the Hall Of Famous Missourians. Two months later, the deed was done. Tilley has since resigned.
The Limbaugh bust, shares the spotlight in the State Capitol, with the likes of Mark Twain, President Truman, Sacajawea, and Walter Cronkite – true American heroes next to a hate monger.
Sign: Petition To Remove The Limbaugh Bust From Missouri's State Capitol.
This was not without protest. A petition of 35,000 was delivered – and ignored. Rallies took place. And boxes of 'flush rush' toilet paper were delivered to Tilley's office. Usually an open public event, the general public and Democrats,  were not invited to the ceremony. In fact they were not allowed into State Capitol's House Chambers, which was "locked and guarded by armed members of the Missouri Highway Patrol," according to the Kansas City Star. The press was alerted only 20 minutes before the ceremony.
"When you take great steps to hide what you're doing, it usually means that you know what you're doing is wrong," said former House Assistant Democratic Leader Tishaura Jones, D-St. Louis.
To add insult to injury, Missouri taxpayers have been asked to pay $1,100 per month for a security camera to be placed by the bust to help prevent vandalism. At the ceremony, Limbaugh called Democrats and  opponents of the bust, 'deranged'.
The protest continues today. You can sign a new Petition To Remove The Limbaugh Bust From Missouri's State Capitol. Missourians deserve better. Walter Cronkite and Mark Twain deserve better. The taxpayers deserve better. Here is the  video compilation of Rush Limbaugh's 3-day slut-rant against Sandra Fluke for advocating insurance-paid birth control. Tilly commissioned the Limbaugh bust just days later:
youtube
please specify correct url
Sign Here: Petition To Remove The Limbaugh Bust From Missouri's State Capitol
Here are additional ways to protest Rush Limbaugh:
Join: Boycott Rush Limbaugh Facebook Group
Sign: Limbaugh Sponsor & Clear Channel Petition
Visit: The StopRush Database
Large organizations including, UniteWomen.org, Liberals Unite, Daily Kos, Media Matters and Political Loudmouth have fully supported and helped the movement.