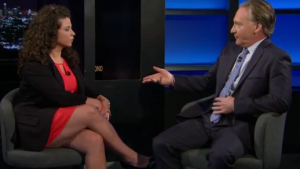 Women's activist Sarah Slamen joined Real Time with Bill Maher and discussed her experience of being physically dragged out of the Texas State Senate Committee meeting because she spoke the truth and made sense.
Evidently, truth to Republican Texas officials has a similar effect as Kryptonite has on Superman. It takes all the power out of their dictatorial argument and thus, truth must be removed. Fortunately, Slamen was given enough time to sufficiently slam the Texas legislature with truth and it was all caught on camera.
Slamen is a self-described "grassroots" activist for women and in the interview with Maher, it is obvious that she is informed and knows her stuff. As a fellow activist, I was filled with pride and joy as I watched this competent and knowledgeable young woman inform the audience with the facts that, until now, have mostly been relegated to the Internet.
Maher asked Slamen if there really is a War On Women or if maybe there's a war on something else and women "are just in the way," or are  "collateral damage." The unfortunate truth is that the War On Women (and yes, there IS a War On Women) has escalated to the point that mainstream media has finally paid attention to the finer points that are too often ignored. Slamen did an excellent job in the few minutes she had, explaining why it is about women. Content that has found a home primarily on Facebook pages like  Rock The Slut Vote, One Million Vaginas, Third Wave Feminism, Unitewomen.org, Kentuckians Against The War On Women and a slew of other pages, is now seeping through to the masses. The more exposure this war gets, the better chance we have of winning.
As it stands, there is still plenty of information that most of mainstream media ignores. More emphasis needs to be placed on the protestors who are being manhandled and  illegally arrested, Texas legislators lying about and altering state website timestamps, and lying about jars of feces and urine that never were. The public needs to understand that this is NOT only about the fight for choice, it's a blatant power-grab and attempt to remove the freedom women have. Texas is only one of many states that is working to restrict women's reproductive rights. Kentucky, Ohio, Virginia North Carolina, Mississippi, Wisconsin, Arizona and many more are seeing the same abortion bans, government mandated transvaginal ultrasound probes and TRAP laws. In other words, The War On Women is real and must be stopped!
Thanks to Bill Maher for giving this more detailed side of the story air time and I ask that he and more pundits continue to do the same.
Watch and share. Slamen ROCKS IT!
---
(Visited 42 times, 1 visits today)