This is a new update on the Sarah Slamen story. Slamen, who was dragged out of a Senate hearing earlier this week, was interviewed last night on NBC's, the Last Word. Here is the video:
Original Story And Video Published July 9 (Below)
Well thank you, thank you, once again, to the strong women of Texas who are speaking out for women's rights. This young woman, Sarah Slamen, stood up to the Texas Senate Committee and spoke her mind and her truth. She was there, along with other pro-choice supporters, to protest the SB1 anti-choice bill. Here is the YouTube video:
For those who are unable to view the video, here is the Texas woman's speech:
I'm here to testify of SB1 because I'm tired of Republican primary politics, misogyny and greed, dominating the state I was born, raised and schooled in. And you know, I had some really eloquent remarks written out, but you guys have just worn me down all day, with all this 'terrible science' and 'glad-handing'… And to be frank I get to move to New York next month, so I don't have to live in fear of you Texas legislators anymore, and what you're going to do with my education system or my health care system,  because I'm going to a state that doesn't kill a ton of inmates. That's how 'pro-life' it is up there.

I will thank you, though, first. It was destiny  that you would discriminate us, and try to force your way into the body of Texas women. Thank you for finally working against us women so publicly – and not in the shadows like you're used to. Thank you for every single bad press conference with your bad information. Thank you for every hateful statement, degrading women and girls to sex objects, brood mares and bald eagles and leather wallets, like your eloquent pro-life supporters have done today. Thank you for being you, Texas Legislature. You have radicalized hundreds of thousands of us, and no matter what you do for the next 22 days, our allies are coming for you.

Let's start down the line. Senator Campbell, you're an ophthalmologist, so I won't be making you the expert on reproductive health. We can give you all the children with Chalmydia and Herpes in their eyes, since we don't have sex ed in the state. And Senator Hegar? You're about as (gavel comes down) – You are about as (interrupted)… Excuse me! This is my government, Mam. I will judge you! I will judge you, Mam.  (as she is interrupted) Is this counted against my time? ("Yes it is") A senator talking against me? ("Yes it is") Okay. Well, I will just go ahead and talk over  her…and this is how big of a fraud I know you were for giving these these proceedings all night. It's a  low bar that you hold yourself to (police come to woman's side) that you'd simply allowed us to speak? I will speak against an opthomologist who… (officers grabbing her arms) Everyone on the internet can see what you're doing right now. This is a farce (now several officers are pulling her away from the mic.) Texas legislatures are a bunch of liars who hate women.
As she is now forcibly pulled out of the room, her voice gets fainter and fainter, but she managed to be heard saying one last sentence:
" And they think they can tell us what to do inside our bodies…"

Screen Shot From The Video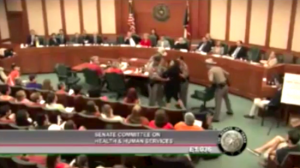 It just feels good to witness a citizen, a woman – and a young woman, speaking out for her rights. Hundreds of thousands, if not millions of women around the country were right there with her feeling the same. Yes, she broke some rules. Isn't that what Republican Texas lawmakers have been doing consistently with over 700 anti-choice/anti women bills this year? Good on her.
Here are four of the many women's rights organizations who are working hard to protect our rights to choose:
---
| | |
| --- | --- |
| | Leslie Salzillo is an activist, political commentator and visual artist. She began contributing to Liberals Unite in June of 2013. |