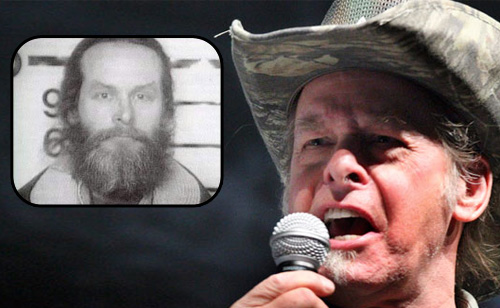 Hey you . . . yes, you. If there's anyone out there who hasn't totally lost all respect for Ted Nugent long before now, watch this and tell me why he's a Tea Bagger hero.
Good luck painting yourselves with this maggot of a brush, Republicans.
Here is the audio from a 1995 interview with Bob Mack of Grand Royal magazine:
NUGENT: You know how many times I've watched MTV? Once in my f*cking life.

MACK: You got to be on top of these things.

NUGENT: I don't have to. You know what I'm on top of? I'm on top of a real America with working hard, playing hard, white motherf*cking sh*t kickers, who are independent and get up in the morning.

MACK: Aren't there any blacks?

NUGENT: Show me one. Show me one.

MACK: There's plenty of them.

NUGENT: Show me one.

[…]

MACK: I got a problem with this attitude, I mean, obviously because —

NUGENT: What attitude? What attitude?

MACK: Well most people would call it racism.

NUGENT: Racism, what's that? I'm not a racist by any stretch of the imagination.

MACK: Why is it that, you know–

NUGENT: I'm let down–

[CROSSTALK]

MACK:  –real America is equivocated with white people?

NUGENT: Because the black guys with this rap–

MACK: Rap?

NUGENT: –electronic make believe talentless music makes me want to throw up.
Watch this astounding video, below.