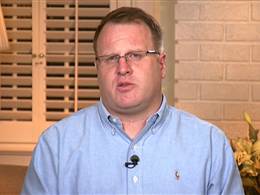 Former Republican staffer Clint Murphy was diagnosed with testicular cancer. He explains that he has been turned down by insurance companies because of his pre-existing conditions in the past. He has also been denied coverage because he took anti-anxiety medication and because he's suffered from sleep apnea. Under Obamacare, it is against the law for insurance companies to turn away people who are sick.
Republicans are wasting America's time and money while they whine and try to repeal the Affordable Health Care Act. It isn't going to happen.
As we see in the video, at a town hall meeting with Ted 'I hate Obamacare' Cruz, a woman asked Cruz how he will take care of sick Texans. A member of the meeting shouted, "We can take care of ourselves."
To the man who shouted out the insulting and inaccurate statement – No, you can't take care of yourself. If you get cancer or some other horrible disease, you will beg for Obamacare and WE ALL KNOW IT. If you were to get very sick, and I hope you never do, you would scream and yell if no insurance companies would cover you. You would scream and yell that this is America, the greatest country on earth and should make SURE you have the opportunity to receive health care. Or am I wrong here? Would you prefer to suffer quietly while travelling to Mexico to be treated? I am going with the Obamacare answer.
Murphy is helping to expose the real hatred and ignorance of the party that wants to destroy America while they are claiming to be patriots.
Visit NBCNews.com for breaking news, world news, and news about the economy
---
(Visited 5 times, 1 visits today)