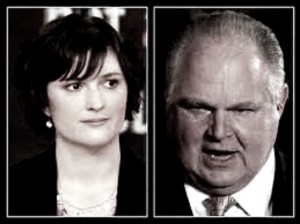 "So, Ms. Fluke and the rest of you feminazis, here's the deal: If we are going to pay for your contraceptives and thus pay for you to have sex, we want something for it. And I'll tell you what it is. We want you to post the videos online so we can all watch.…" ~RushLimbaugh 2012
Al Sharpton and his guests show some clips of  Limbaugh rants – and discuss his influence over the GOP. Personally, I don't think he influences the GOP as much as he would like to believe. More of them are pulling away as he is costing them votes – and elections. I think they use Limbaugh to spew lies and promote fear about Obama, blacks, women, lgbt.. so that his listeners will feel they need to keep listening – because Rush will save them, and the GOP will save them. Even when Rush is off public radio, American voters will remember that Republicans did not denounce Limbaugh's hate speech. He is their evil spokesmodel.  The majority of this country has clearly shown their disdain for Limbaugh, with boycotts, protests and petitions. Most will not forget the party that stood behind him.
Here is the video. Warning. There is a high cringe factor in this video. Most of us know why we dislike Rush Limbaugh. This will only make you dislike him that much more. So you can bypass the video (10 minutes of aggravation) if you like, and go straight to how you can join the hundreds of thousands working towards removing Rush and more importantly, hate speech from our public radio.
Our public radio network was created to give voice to the American people. It was not created to be used by hate-mongers like Limbaugh, who make millions promoting lies, racism, and sexism and lgbt-hating bigotry. To join in the protest, here are a few ways:
Join:  BoycottRush Facebook Group
Sign: Limbaugh Sponsor & Clear Channel Petition
Visit: The StopRush Database (extensive list of sponsors)
Some of Limbaugh's most loyal remaining sponsors/advertisers include or have included: Amberen, SweetJack, LegalZoom, Comcast, Ageless Male, Lifelock, Comcast, Blinds.com, Stamps.com, Regus, Lear Capitol, Income At Home/Herbal Life, Hillsdale College, 1-800-Flowers, Lunch Dates,Wave Home Solutions, Gold Bond, Midas, Visiting Angels, MyTV, New Vitality, Keller Williams, Heritage Foundation, 1-800-Donate Cars, Power Swabs, Idrive, Bank On Yourself, Total Transformations AARP and iHeart.
You can now upload a free ThinkContext Limbaugh Sponsor Browser to see who is sponsoring while doing your online shopping.
Some of the many larger groups that support the boycotts/protests include: Media Matters, UniteWomen.org, One Million Pissed-Off Women, Daily Kos, Being Liberal, Addicting Info, Political Loudmouth and Liberals Unite.
---
| | |
| --- | --- |
| | Leslie Salzillo is a pro-choice activist, political commentator, Rush Limbaugh boycotter, and visual artist. She began contributing to Liberals Unite in June of 2013. |