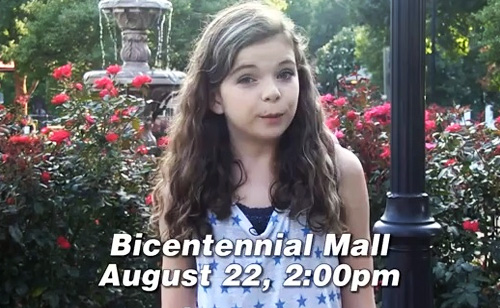 Twelve year-old Madison Kimrey has garnered more than 10 thousand signatures on her petition asking North Carolina Governor Pat McCrory to have a sit down with her to talk about his bill that makes it more difficult for people to vote.
Since the petition was created, McCrory passed the bill – sparking lawsuits –  and has completely ignored Madison.
Perhaps he feels that she's just a young girl, she's not important and will go away.
Maybe he doesn't care what she has to say.
Could it be that he has noticed a big drop in his approval ratings and is afraid that a twelve-year old will provide too much common sense for him to handle?
Or possibly he thinks that because he was elected governor, he is somehow above talking to constituents? Or a twelve year-old? Or girls?
Whatever his reason, ignoring this fierce tween makes him look like an uncaring coward.
Maybe we can help Madison and her mission to have a civil conversation with Gov. Pat McCrory. It's a long shot and I am not betting he will cave, but we can apply some pressure. He is paid with tax dollars – if you live in North Carolina, some of those dollars are yours.
Here is his phone number: 919-814-2000.
Email: HERE
Twitter handle: @PatMcCroryNC.  Sample Tweet (Just copy & paste): @PatMcCroryNC Please watch the video and meet with young Madison to discuss NC voting rights. Expect baked goods. http://tinyurl.com/l4u76nd
Facebook: HERE
Let's contact him on behalf of Madison and see if he finds the courage to have that one-on-one with her. Ask the governor if he will meet Madison at Bicentennial Mall in Raleigh at 2PM on Thursday, August 22nd. She's baking him a cake and everything!
Side note: Madison tweeted me the URL to her video. After watching it and becoming even more impressed with the outspoken, articulate, young activist, I tweeted back and asked if she is really a 40 year-old woman. Here is her reply.

Gotta love it. Intelligence and humor. You GO girl!
Sign Madison's petition: Pat McCrory: Let's Sit Down and Enjoy a Snack Together
---
(Visited 10 times, 1 visits today)