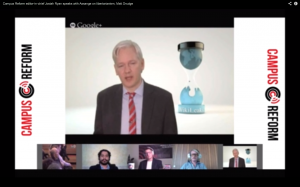 Julian Assange unloaded more followers after making blanket statements about all three political parties, while favoring Libertarians. Most of us expect that from him. And most can deal with that. But this time, Assange went so far as to verbally praise Rand Paul, including Paul's views on abortion; or should I say more clearly, Paul's anti-choice views for women. (1:55 – 3:35)
Here is the video from a Campus Reform Q&A:
Isn't the libertarian philosophy about living by one's own free will? Isn't a Libertarian one who advocates maximizing individual rights and minimizing the role of the state? I guess according to Rand Paul, and now Julian Assange, that free will does not apply to women.
There has always been a part of me that believed Assange was trying to do something good, that he was a truth seeker. I lost  much of that belief after seeing this video. His statements seem 'all-knowing' – rather than truth-seeking. And to praise an anti-choice, Tea Party proponent like Rand Paul, leads me to believe – I have been fooled. In his own words, here lies the real Julian Assange.
---
| | |
| --- | --- |
| | Leslie Salzillo is an activist, political commentator and visual artist. She began contributing to Liberals Unite in June of 2013. |
(Visited 8 times, 1 visits today)