The U.S. Census report released in 2012 reveals what most people already know: the rich are getting richer and the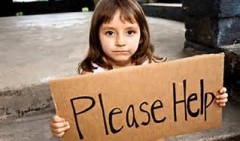 poor are getting poorer. Even with 2 million jobs added, the suffering across the country continues, particularly in the south, where poverty has a strong foothold.
In 2012, 15 percent of the country—46.5 million people—lived below the poverty level, a slight uptick from the numbers in 2011.
The 10 poorest states in the country, rated by median household income are:
10. Oklahoma—Median income: $44,312 Population: 3,814,820
According to the Census Bureau, 17.2 percent of Oklahomans had incomes below the federal poverty level in 2012. 14.6 percent of white Oklahomans are below poverty level but those numbers jump with nearly twice as many Hispanics (28.8 percent) and African-Americans (29.8 percent) living below the poverty level. The most poverty-stricken class, estimated at a whopping 45 percent, are single mothers of children under 18.
The unemployment rate has dropped from 7.1 percent in 2009 to 5.3 percent in 2012, however since August of last year, that number has held steady.
9. South Carolina—Median income: $43,107 Population: 4,723,723
In 2000, 1 out of 6 South Carolinians lived below the poverty level. By 2012, 300,000 residents of the state fell below the poverty level, making it 1 out of 5—that's 20% of the population.
The loss of textile jobs is tied directly to the poverty numbers. Those jobs typically employed people with less than a college education. The state ranks 47th in the number of people who graduated from high school and according to the Children's Defense Fund, only 27 percent of eighth grade students can read at grade level. The state also ranks 47th in low infant birth weight, 46th in overall health and has an adult obesity rate of 31.6 percent. Aside from being in the top 10 poorest states, South Carolina is one of only 13 states with adult obesity over 30 percent.
8. Louisiana—Median income: $42,944 Population: 4,601,893
New Orleans at 28.7 percent and Baton Rouge at 26.7 percent lead the state's poverty levels. Statewide, the rate is just under 20 percent and that represents a number that has remained consistent over the last decade. Only three other states have extreme poverty levels that eclipse Louisiana. Extreme poverty is an annual household income of less than $10,000, which is less than half of the federal poverty level.
In the last 12 years the state has seen an increase in median income, rising from $41,227 in 2000 to $42, 944 in 2012. However New Orleans ($34,361) and Baton Rouge ($38,806) still lag behind the state's median. On a brighter note, New Orleans has realized the ninth largest increase in gross domestic product in cities across the country, with an increase of 7.6 percent due to an upsurge in mining and natural resources.
7. Tennessee—Median income: $42,764 Population: 6,456,243
The unemployment rate enjoyed a 1.3 percent drop between 2011 and 2012, however, that rate has risen in 2013 to 8.5 percent. One of the factors hurting the economy is job cuts in the public sector. David Penn, associate professor of economics at Middle Tennessee State University told the Memphis Business Journal "When government employment is down 1.4 percent, that's a big sector and that's almost 6,000 jobs right there."
25 percent of children in Tennessee live in poverty, a third are dependent of food stamps and almost half of pregnant women in the state don't receive "adequate" prenatal care, according to "Kids Count."  
6. New Mexico—Median income: $42,558 Population: 2,085,538
The only state on the list not located in the south, New Mexico is home to 426,000 people living in poverty. That's 20.8 percent, a six-figure increase over the poverty level of 18.6 percent in 2000. Children have suffered the most, according to the "Kids Count" data.
In a state where local, state and federal jobs account for 23.4 percent of jobs due to federal research labs and health facilities, the cuts to those programs have contributed to the soaring poverty levels, which will only get worse if Washington continues to slash funding for public sector employment. Since 2010, government employment has fallen by about 3 percent.
5. Kentucky—Median income: $41,724 Population: 4,380,415
According to U.S. Census numbers, child poverty in the state increased from 23.5 percent in 2008 to 26.5 percent in 2012. Total poverty in Kentucky was up from 18.6 percent in 2009 to 19.4 percent in 2012. Those receiving food stamps has also risen from 17.4 percent in 2011 to more than 18 percent in 2012.
Kentucky has recorded a decrease in unemployment as of August 2013, dropping from 8.5 percent to 8.4 percent. Director of research at the Kentucky Education and Workforce Development Cabinet Ron Crouch noted that the seems to be a trend away from manufacturing jobs, which dropped from 15 percent of the workforce in 2008 to 13.6 percent in 2012. He  sees a trend towards health-care and education jobs, which have increased from 22.4 percent in 2008 to 24.4 percent in 2012. Auto manufacturing is another sector that has seen an uptick in employment. So far this year, 650,000 vehicles have been manufactured in the state, with only Ohio and Michigan producing more.
4. Alabama—Median income: $41,574 Population: 4,822,023
The second most religious state in the union, Alabama is not only poor, but has the dubious distinction of leading the country in diabetes. The state ranks second in obesity and third in hypertension. It also ranks third in the country for children living in poverty and in infant mortality.
The median income in the state over the last seven years has consistently been $10,000 or more below the median income in the country. Alabama is second only to Mississippi in credit card delinquencies.
Alabama has the lowest property tax in the nation and relies heavily on sales taxes to raise revenue. This imposes a severe burden on low-income earners, the lowest 20 percent of whom pay more than 10 percent of their incomes in state and local taxes, while those in the top 1 percent pay only 3.8 percent of their incomes in state and local taxes,
3. West Virginia—Median income: $40,196 Population: 1,855,413
Poverty levels in West Virginia have dropped nearly a percentage point since 2011, but  17.8 percent of the residents of the state were at or below the federal poverty level in 2012, with nearly 10 percent living in extreme poverty. Rates for African-Americans in the state were more than double the state ranking, coming in at 37.4 percent.
The median income in West Virginia rose by about $900 in 2012, however the overall increase in the last three years has been a sickly .31 percent. Almost 60 percent of Wet Virginia residents earned less than $50,000 in 2012.
2. Arkansas—Median income: $40,112 Population: 2,949,131
The median income in the state has risen for the first time since 2008, up from $38,758 last year to $40,112. Those gains were posted in spite of a drought that devastated the agricultural sector. Beef production in the state fell 6 percent, double the national average.
The sale of expensive homes has dropped, with just 13 $1 million+ homes selling in 2012 and only 22 in 2011.
1. Mississippi—Median income: $37,095 Population: 2,984,926
More than 24.2 percent of the residents of Mississippi live below poverty level, with more than a third of children living in poverty. Despite adding 25,000 jobs in 2012, the state's unemployment numbers rank sixth in the nation.
The good news is the state has the best growth in GDP at 1.9 percent, beating the national average of 1.6 percent and the state is outpacing the nation in job growth. However, many of the jobs created in 2013 are low-wage and part-time jobs.
So which state in the union is the richest? That would be Maryland, with a median income of $72,419 and a population of 5,884,563.
---
(Visited 14 times, 1 visits today)