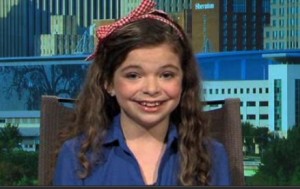 You may remember Madison Kimrey – the 12 year-old activist who wishes to sit down and have some cake with North Carolina Governor Pat McCrory to talk about voting rights  – or lack thereof.
Unfortunately, McCrory thinks Madison's request is "ridiculous." He laughed her off and he dismissed this young, incredibly bright activist, as a leftist liberal prop.
McCrory IS an Art Pope prop – bought and paid for. Pope is a very wealthy conservative who has purchased conservative politicians in an effort to rule North Carolina. McCrory must realize that by meeting with Madison and having to justify to her why he has made it much harder for North Carolinians to vote, he'd look like a big ol' fascist meanie. So instead, he mocks her from a safe distance like any cowardly politician would.
12 year old girls are scaring big men politicians. That says IT ALL!
Madison had an opportunity to speak with MSNBC's Melissa Harris-Perry about her experiences as an activist and with McCrory. I have had the pleasure of writing about this amazing youngster twice. I have also been fortunate to establish a bit of a  friendship with her online. When I post about her, occasionally some friends come on the thread and accuse me, her parents and adults in general, of using her or exploiting her. Madison ALWAYS jumps into the conversation and blows my mind with her incredibly adult, sarcastic and hilarious responses. In the interview, she addresses and dismisses the idea of her being exploited. It is clear, Madison can think for herself.
Rather than jump to conclusions about this brilliant young mind, maybe those who are quick to assume she is being exploited might take a minute and realize how pathetic it is that so many Americans don't even bother to vote. Madison is a young girl who passionately cares about her country and her say in it. That isn't something to criticize. It's something to be celebrated and commended.
Sign Madison's petition: Pat McCrory: Let's Sit Down and Enjoy a Snack Together
Madison ROCKS. Enjoy!
Visit NBCNews.com for breaking news, world news, and news about the economy
---
(Visited 4 times, 1 visits today)