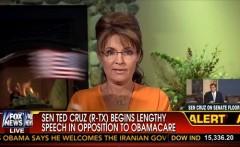 Tea Party darling Sarah Palin has been voicing her support for Senator Ted Cruz's effort to defund Obamacare, but is anyone listening? Let us know in the comments below if you are listening, laughing or simply ignoring her.
In an exclusive Op-Ed published by Breitbart.com, Palin wrote last Friday:
If the Senate doesn't get behind Ted Cruz's efforts to defund Obamacare, it won't be because of any failure on Ted's part. It'll be because there weren't enough principled leaders to stand with him, and that would be a tragic loss, not for Ted, but for America.

[…]

As I said in my speech at CPAC this year, it's time for the Senate to put itself on Cruz Control.

Ignore the peanut gallery pundits. They've written my political obituary so many times, I'm practically Lazarus. Now they're trying to destroy Ted Cruz. Good luck with that, you weasels. Texans are just as tough as Alaskans. Smaller, but just as tough.

[…]

Oh, and a little reminder to Republican senators up for re-election in 2014: Moose season ends soon, allowing more time on one's hands. So, we'll be watching your votes very carefully this week.
Palin followed up yesterday speaking on Your World with Neil Cavuto, slamming the likes of Karl Rove and Dick Morris for attempting to "appease President Obama." She went on to note that whether or not "Cruz dies, politically speaking," she and others will continue to support him through a third party made up of "good guys" like Ted Cruz, Rand Paul and Mike Lee.
(Visited 12 times, 1 visits today)