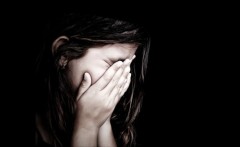 October is National Domestic Violence Awareness month. This month is intended to help battered women and to also bring public attention to the many cases of domestic violence every year in this country. We may recognize this problem in October, but this epidemic is something that should be addressed every month of the year.
The #1 FACT about Domestic Violence is that the vast majority of violent incidents are never reported. That makes these statistics even more alarming…
Violence on Women-
1 in 4 women will experience some sort of domestic violence in her life.
1 in 6 women have been raped or experienced attempted rape.
1 in 3 women who have been murdered were killed by a current or former partner.
Over 60% of domestic violence happens at home.
In 8 out of 10 rape cases, the victim knows the rapist.
56% of women who have been abused are diagnosed with a related psychiatric disorder.
92% of abused women do not tell their doctors. 57% of them do not tell anyone.
Teens and Children-
1 in 5 high school girls has been physically or sexually abused by her boyfriend.
70% of all reported teenage sexual assaults are date rapes.
Physical aggression occurs in 1 of every 3 teen relationships.
More than half of all domestically abused women live in a house with children under the age of 12.
An estimated 10 million children witness domestic violence every year.
Children and teens who have witnessed domestic violence are most likely to exhibit violent behaviors themselves.
50% of men who abuse their wives also abuse their children.
Little girls who witness domestic violence are far more likely to be abused as adults.
Little boys who witness domestic violence are twice as likely to become abusers as adults.
Domestic Violence and Guns-
Access to firearms makes a woman 5 times more likely to be killed by an intimate partner.
Abusers who possess guns inflict the most severe abuse.
2/3 of women killed with firearms were killed by their intimate partners.
An average of 3 women every single day are murdered by their intimate partners.
In homes with one or more guns, the risk factor for a woman being killed is 3 times higher.
Having a gun in your home makes it 3 times more likely that you or someone you love will be murdered by a family member.
Economic Impact-
16,800 homicides and more than 2.2 million hospital-treated injuries are reported every year, costing more than $37 billion.
Violence committed by an intimate partner costs more than $5.8 billion every year.
Resources:
(Visited 33 times, 1 visits today)