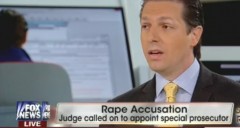 After the announcement that a Missouri prosecutor asked for a special prosecutor to review the charges that 14-year-old Daisy Coleman was sexually assaulted by 17-year-old high school jock Matthew Barnett in January 2012, FOX host Shepard Smith invited criminal defense attorney Joseph DiBenedetto to offer an alternative viewpoint.
The case was dropped by prosecutor Robert Rice soon after the assault charges were made, but after a recent firestorm of Internet chatter, the case has become a national conversation.
DiBenedetto mansplained:
"There's no denying that from the surface it appears to be some sort of cover-up," the defense attorney said. "But when you look at the finer details, there are telltale signs of this girl actually lying. She is leaving her home at 1 a.m. in the morning and nobody forced her to drink. And what happens? She gets caught by her mom, she's embarrassed and the easy way out here is, 'Mom, someone took advantage of me.'"
"But what did she expect to happen at 1 a.m. in the morning after sneaking out?" he asked. "I'm not saying — assuming that these facts are accurate and this did happen — I'm not saying she deserved to be raped, but knowing the facts as we do here including what the prosecutor has set forth, this case is going nowhere and it's going nowhere quick."
Smith pointed out that  DiBenedetto's interpretation of events was a "far jump."
"What you've done, Joseph, is taken an alleged victim of rape and turned her into a liar and a crime committer," the Fox News host asserted. "That's a far jump from a 1,000 miles away."
"That's one way to look at it," DiBenedetto replied. "Assuming that is the case, she wouldn't be the first and she wouldn't be the last."
I am assuming that when DiBenedetto was a teen, he was ALWAYS honest with his parents and told them everything. I am assuming DiBenedetto has never placed himself in a situation where he could be in danger – EVER. How wonderful it must be to be so superior and point the finger at a young, impressionable girl who had recently lost her father.
For those unfamiliar with the case, you can read more details here: 14-Year-Old Girl Assaulted, Family Threatened & Their House Burned Down
---
(Visited 22 times, 1 visits today)