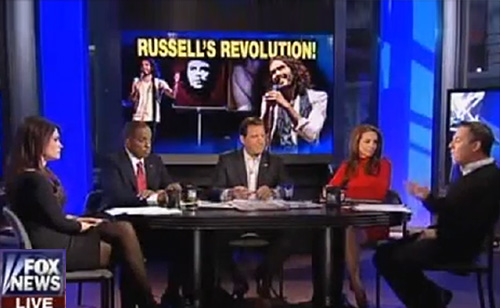 In a maneuver reminiscent of last year's assault on Jim Carrey, Fox News is lashing out at Russell Brand this week after an interview of his went viral.
Fox News The Five, started in on Brand on Friday asking "what is wrong with this guy."
Greg Gutfeld said Brand has the "intellectual capacity of a student" who didn't pay much attention in college and says things without thinking first, because what he's advocating, Gutfeld argued, was a "totalitarian system that has killed hundreds of millions of people." And even worse, Kimberly Guilfoyle added, "now he doesn't have Katy Perry, so he's like a nobody."

Eric Bolling and Juan Williams clashed over whether America is the kind of socialist haven Brand was talking about, with Williams arguing that brand may be "kind of daft," but he's not "out of touch" with reality.

Guilfoyle laughed and asked, "What is wrong with this guy?" Jedediah Bila took issue with Brand's "vilification of big companies," and mockingly suggested if he really thinks profit is so bad , "he should give all of his money away."
You can watch the carnage below:
Next, Fox News anchors Katie Pavlich and Neil Cavuto tore into Brand.
"I say profit is a filthy word" says Comedian Russell Brand in a recent interview. Katie Pavlich joins FNC's Neil Cavuto to discuss the blatant hypocrisy of his statement.
(Visited 15 times, 1 visits today)