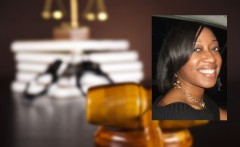 Well this is a very happy Thanksgiving Day for many. The most grateful is Marissa Alexander, the mother of three who was sentenced to 20 years in prison for firing a warning shot to keep her abusive husbandfrom attacking her. Alexander was released from jail, just before midnight on Wednesday. She'll be under house arrest until her new trial in March 2014, with 13 conditions she must follow to avoid going back to jail. It's reported Alexander has been instructed not to speak to the media at this time.
In a statement released Thanksgiving morning, the Free Marissa Now Mobilization Campaign stated:
"Words cannot express the relief and joy of everyone in the Free Marissa Now Mobilization Campaign that Marissa Alexander is home with her family this Thanksgiving Day."

"We are thrilled that Ms. Alexander will be able to prepare for her new trial amid the support and love of her children and family from whom she has been separated far too long."
Marissa Alexander's has been in the news for several years, but her case was catapulted into social and mainstream media after the George Zimmerman. She claims she fired a warning shot in self-defense, hurting no one. He claims he killed in self-defense and a young teenager is dead. Alexander was sentenced to 20 years. Zimmerman walked out of the courthouse free. Many feel Marissa Alexander was discriminated for being black, and for being woman.
In September, after massive protest, Alexander was granted a new trial. The prosecuting attorney, Angela Corey, refused to drop the case when given the opportunity. Early in November, a bail hearing took place where the judge made no decision. Perhaps he came to his decision due to the continued efforts by the public and Free Marissa Now, or perhaps because in his heart he knew this woman has been unjustly treated by the court system. Regardless of what happened that day in 2010 when she was arrested, Marissa Alexander's original sentence of 20 years is absurd.
I've been following and writing about this story since last spring after reading about her case and have vowed to continue until she is completely released and free.
Souces FirstCoasterNews.com ActionNewsJax Liberals Unite
---
| | |
| --- | --- |
| | Leslie Salzillo is an activist, political commentator and visual artist. She began contributing to Liberals Unite in June of 2013. |