Republican Texas Senator Ted Cruz sat down and talked with Jay Leno. Leno asked some hard questions and Cruz's answers provided no surprises.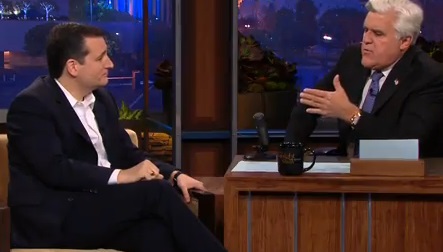 "We don't want Obamacare because it's taking away their health care," Cruz said.
Leno noted, 25 percent of Texans don't have health care. Cruz argued Obamacare won't help. "It's taking away a lot of people's health insurance and No 2, cause it's killing jobs," he said.
The Bureau of Labor Statistics released the October jobs report which disproves the Republican narrative and Cruz's argument that Obamacare is costing Americans jobs and ruining the economy. The report reveals there has been very little change. "Total nonfarm payroll employment rose by 204,000 in October, and the unemployment rate was little changed at 7.3 percent."
"Listen, Jay, I'm one of the many people who was not a fan of shutting down the government," Cruz said.
"Well you looked like a big fan from where I was standing," Leno interjected.
Leno then asked Cruz if he is against gay marriage.
 "I support marriage between one man and one woman. But I also think it's a question for the states. Some states have made decisions one way on gay marriage. Some states have made decisions the other way. And that's the great thing about our Constitution, is different states can make different decisions depending on the values of their citizens," Cruz said.
Leno mentioned that the senator's father, Dallas-area pastor Rafael Cruz, has made headlines recently for arguing that the goal behind the push for gay marriage is to destroy the traditional family and pave the way for communism.
"My father is a pastor. He's a man of deep integrity and you know, some folks have decided to try to go after him because they want to take some shots at me," Cruz said. " … I think the critics are better off attacking me. My dad has been my hero my whole life."
If Cruz feels the press should leave his father alone, perhaps he might wish to stop using his father as a political surrogate and tell him to stop making bold declarations such as, President Obama should "go back to Kenya."
---
(Visited 4 times, 1 visits today)