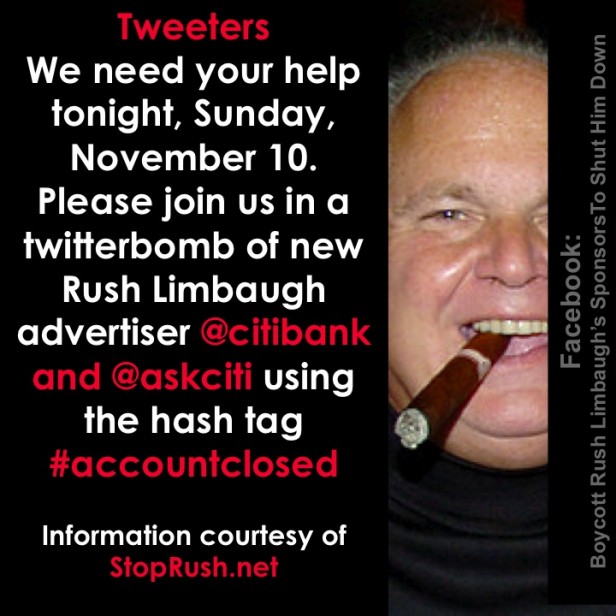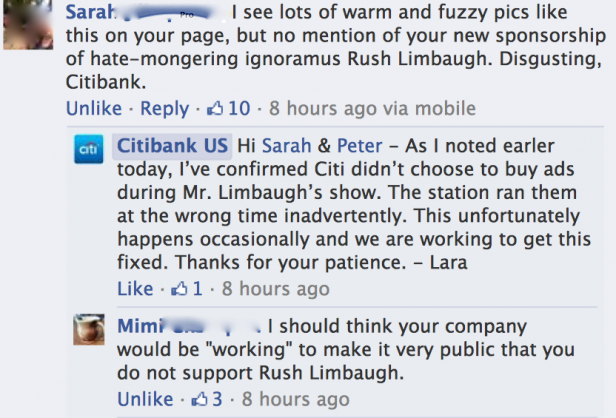 Sunday night, memes such as above were spreading throughout Twitter and Facebook, asking people to tweet and post messages to Citibank to request the mega bank pull its ads from the Rush Limbaugh Show. Within hours representatives at Citibank were notifying concerned consumers, that there had been an error. A spokesperson from Boycott Rush Limbaugh's Sponsors To Shut Him Down reports:
"We hear responses like Citibank's often, claiming there was an error. In some cases it's true, and in other cases, it's 'damage control.' The proof is in the pudding. When the radio monitors at StopRush.net and Join The Fight To Flush Rush no longer hear the ads on any of the Clear Channel or Cumulus hate radio stations that carry Limbaugh, the company is taken off the active list, and not before. If a company comes back later, they are pulled from the StopRush Database and made 'active' again."
The current boycotts began in the early spring of 2012, after Rush Limbaugh called then unknown, Sandra Fluke, a 'slut' and 'prostitute' for advocating mandated insurance coverage for birth control pills at a congressional hearing. The three-day public rant on air, by Limbaugh, set off a protest that has only grown stronger by the day. Activists and everyday consumers have contacted sponsors and thousands of companies have pulled their ads/sponsorship from Limbaugh's show.
The public continues to show its strength and voice. History has proven, when peaceful protest perseveres for the right reasons, good eventually trumps evil. To get involved or find out more, you can visit: Facebook's Boycott Rush Limbaugh's Sponsors To Shut Him Down StopRush.net, or Facebook's Join The Fight To Flush
Special thanks to UniteWomen.org. for supplying information about the Twitter Bomb event.
---