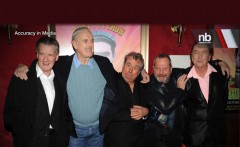 The British comedy troupe Monty Python announced that they will be performing a greatest hits show together at London's O2 Stadium on July 1st.
The five surviving members, John Cleese, Terry Gilliam, Eric Idle, Terry Jones and Michael Palin held a press conference Thursday morning at the Playhouse Theatre in London. The sixth member of the troupe, Graham Chapman died in 1989.
The production will be the first time they performed together in more than 30 years since their show at the Hollywood Bowl in September of 1980. According to the BBC, the troupe has not performed in the United Kingdom in over 40 years.
Eric Idle tweeted about the upcoming event on Wednesday, including a photo of the troupe meeting on the matter:
Python meeting in progress. Just considering the Redditch bid….. pic.twitter.com/oEDAqYkobo

— Eric Idle (@EricIdle) November 20, 2013
You can watch the press conference below, although the audio is not very loud:
(Visited 33 times, 1 visits today)