Senator Rand Paul is addressing recent plagiarism concerns by using The Tea Party Playbook. He is taking personal responsibility by blaming his staff and advisers.
In a not-so-surprising maneuver, Rand Paul adviser Doug Stafford issued a written statement on Monday suggesting that some instances of possible plagiarism came from staffers, noting they failed the task of insuring information was "clearly sourced or vetted properly."
You can read the full statement below, courtesy of MSNBC:
In the thousands of speeches and op-eds Sen. Paul has produced, he has always presented his own ideas, opinions and conclusions. Sen. Paul also relies on a large number of staff and advisers to provide supporting facts and anecdotes – some of which were not clearly sourced or vetted properly.

Footnotes presenting supporting facts were not always used. Going forward, footnotes will be available on request. There have also been occasions where quotations or typesetting indentations have been left out through errors in our approval process. From here forward, quoting, footnoting and citing will be more complete.

Adherence to a new approval process implemented by Sen. Paul will ensure proper citation and accountability in all collaborative works going forward.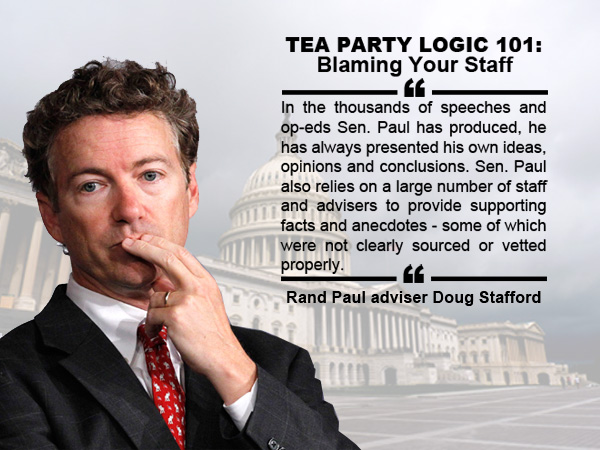 (Visited 21 times, 1 visits today)