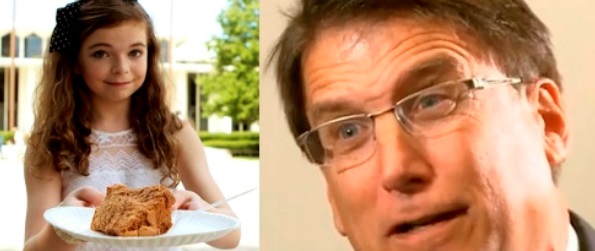 Guest post: By 12-year-old activist Madison Kimrey
Governor Pat McCrory (R-NC) decided to talk about me when asked by a reporter with WFMY.
He doesn't know why a 12 year old girl would be at his gates at 10:30 at night. I wasn't hungry for food. I had eaten dinner before I left and had chips, nuts, and drinks to bring and share with the other people demonstrating at the mansion that night. I was hungry for my rights and the rights and opportunities of my fellow citizens.
Governor McCrory claims he tried to help me. He went on a conservative radio show over the summer and called me a prop for liberal groups and pretty much calls me the same thing here. This is not helping. It's not helping the young people of North Carolina to have a leader who ignores and insults us.
Shame on Governor McCrory. He responds to a young citizen with lies and his own sick version of a "Yo Momma" joke. My mom is not involved with Move On but I'm proud to have discovered them after the protest at his mansion and I'm proud to be a member. My petition to meet with the Governor has over 13,000 signatures. Governor McCrory fails to realize that each signature represents an ordinary citizen, just like me. I'm more convinced than ever Governor McCrory is incapable of leading North Carolina's future.
I hope that my latest petition on Move On will get even more signatures than my first. I want to see a federal law enacted giving 16 and 17 year olds the opportunity to pre-register to vote. This opportunity and the education programs that went along with it were taken from NC's young people in the new voting bill signed by Governor McCrory.
Governor McCrory did acknowledge that I'm a "very bright girl" but he doesn't seem to realize that there are other bright young people in his state and around this country. We're hungry. We are hungry for leadership who will feed us with knowledge, consideration, and opportunities and aid us in our task of creating a better future.
"I had a 12 year old girl outside my gate at 10:30 at night, saying that she was hungry," Pat McCrory said. The young people of this state and this nation will stand at every gate and we will make our voices heard at every hour. Make no mistake what it is we are hungry for.
Madison Kimrey is student, actress, aspiring writer and activist who fights for LGBT rights, humane treatment of animals, women's rights and promotes youth activism and participation in democracy.
---
(Visited 13 times, 1 visits today)