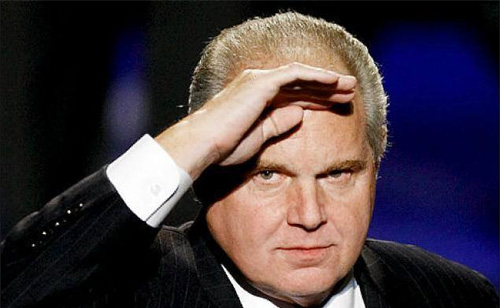 It's as though the spirit of Richard Myers is shining over us. We lost him one year ago, almost to the day. He helped start the original 'FlushRush' movement, and I feel sure Richard would offer up a hearty, "Woot Woot!" if he heard this news today.
This good news is three-fold. Let's start with Bloomberg's report, which came out yesterday, on Clear Channel, the mega radio network that carries Limbaugh on approximately 600 radio stations. It appears the sky is falling for them.
Bloomberg:

Clear Channel is enticing investors to roll their investment into the new term loan by offering more than double the interest rate in order to get three more years to turn around a business that's posted losses every year since its buyout in 2008, according to data compiled by Bloomberg. The company faces $4.2 billion of debt coming due in 2016.
Clear Channel CEO Bob Pittman likes to play liberal, and continues to act like nothing is wrong, as he did when Clear Channel reported a loss of $203 Million in their annual 1st Quarter Earnings Report, last March. Clearly something is very wrong.
Bloomberg:

Clear Channel's interest expenses have surpassed its operating income in every quarter since the end of 2008, data compiled by Bloomberg show. Its earnings before interest, taxes, depreciation and amortization have shrunk to $1.8 billion in the 12 months ended June 30 from $2.3 billion in 2007.

"The company is just treading water," said Spencer Godfrey, an analyst at debt researcher KDP Investment Advisors Inc. "Actual debt outstanding will increase a modest amount. They're getting past their 2016 maturities at the expense of dramatically increasing interest payments."
There's more:
Wednesday, Kossack Proglegs reported Mannheim Steamroller is finally pulling their Limbaugh ads. But what some don't realize is many companies are discontinuing ads quietly, as they slither out the back door.
*These four MAJOR Limbaugh sponsors have not been heard on his show for over three months:
Bluebell Ice Cream
Pearl Vision
Hammermill Paper
Gold Bond
Could there be more good news? There is. And this concerns Conservative radio as a whole. Last week, Rush Limbaugh was moved from a large reaching radio station, to one not so easy to hear – or find. Humorously, it was presented by some in the right-wing media as a promotion for Rush, when, in fact, it was a demotion. Here is a comment from radio veteran for 40 years, Howard Hoffman, on BradBlog.com.
BradBlog Comments/Howard Hoffman:

"Between the two other 24/7 right wing stations, KABC (0.7) and KRLA (0.3), the total audience is right at a 1 share, meaning 99% of the available audience does NOT listen to conservative talk radio, despite the bluster and bravado. Rush being taken off KFI's signal on 640AM and shoved up into the upper end of the AM dial at 1150AM is the radio equivalent of being put in the naughty corner.

And yes, Rush's ratings have taken a hit on KFI since the "slut" incident.

So while this is bad news for progressive talk, the fact that Beck, Rush and Hannity will be confined to a bad signal on a bad dial location is cause for concern in right wing circles. Believe it."
We believe it, Howard. And we could kiss you.
In capping off the year, volunteers, activists and everyday concerned consumers have successfully caused thousands of Limbaugh sponsors to leave his hate-filled show, and now they are causing his networks to drag around the increasingly heavy ball and chain called Rush Limbaugh. How do they survive? It's no longer a secret that Tea Party/Koch Brothers organizations like The Heritage Foundation and FreedomWorks, are padding the 'right' pockets, at the expense of the stations/networks. It will catch up. Public outrage continues to grow, and history has proven time and time again, that good eventually trumps evil. It's not if – it's when.
Here are ways people get involved:
Join/Visit/Like: Facebook: BoycottRush Facebook Group (Over 74,000 following)
Sign:Limbaugh Sponsor & Clear Channel Petition (Over 50,000 signatures)
Join:Facebook's Join The Fight To Flush Rush (Over 17,000 members)
Visit:The StopRush Database
Some of the many groups that help to support the Rush Limbaugh protests and boycotts include: Daily Kos, Media Matters, UniteWomen.org, One Million Pissed-Off Women, Liberals Unite, NARAL, Being Liberal, 1 Million Sluts Against Rush Limbaugh, Addicting Info, SLUTS, NOW, and Political Loudmouth.
Thank you, Richard Myers. Rest In Peace. We Will Finish This. We miss you dearly.
*Information gathered from StopRush.net by BoycottRush volunteers. Many thanks to all the volunteers.