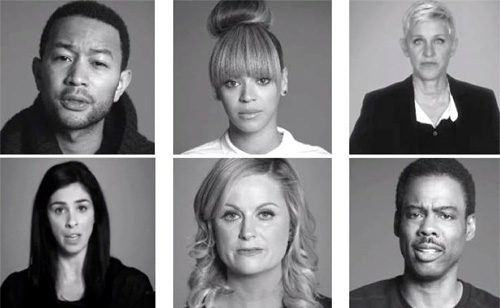 In this compelling public service announcement made days after the Sandy Hook Massacre, celebrities came to together and asked Americans to demand a plan of action from Congress, for safer gun laws. The message is timeless. The video was created by Demand Action, a campaign of Mayors Against Illegal Guns.
President Obama took action after the Newtown shooting, and a gun safety bill was introduced. On April 18, 2012, to the shock of many, that simple background measure was voted down in Congress by Republicans.
Current polls showed the majority of Americans wanted safer gun laws – and once again the GOP spat in America's face.
"There were no coherent arguments as to why we wouldn't do this," Obama said appearing in the Rose Garden with Newtown family members after the vote. "It came down to politics."
Some of the entertainers making an appearance in this video include: Ellen Degeneres, Sarah Silverman, Chris Rock, Beyonce, Jessica Alba, Jennifer Aniston, Will Ferrell, Jamie Foxx, Jon Hamm, Julianne Moore, Gwyneth Paltrow, Jeremy Renner, and Reese Witherspoon. The questions remain:
"How many more? How many more colleges? How many more classrooms? How many more movie theaters?" "Enough."
To contact/individually search lawmakers in your state, visit Congress.gov and let them know your thoughts. 2014 is Midterm elections year. They will listen.
---