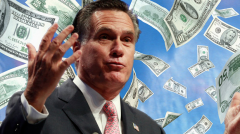 One of the most ignored stories in the mainstream media will surely be coming to a television screen near you once the court proceedings commence. That lawsuit is none other than racketeering charges leveled against one Willard "Mitt" Romney and his co-defendants in Haas v. Romney.
Filed on October 18 in Los Angeles, CA, in an ironic twist of fate it was decided on November 6, the one-year anniversary of Romney's loss to Barack Obama, that the lawsuit could go forward.
eToys executive Steven "Laser" Haas and his company, Collateral Logistics, Inc., was the court appointed fiduciary charged with overseeing the liquidation of eToys. Haas filed the suit after discovering multiple frauds while in the process of liquidating the company. In his affidavit to the Securities and Exchange Commission dated August 3, 2012, Haas charges, among other things, that he was offered $850,00 by Bain Capital to keep quiet about irregularities he uncovered.
He is suing the defendants for $100 million in an effort to recoup the losses incurred by him and the other victims of the alleged fraud.
Several steps are necessary as the lawsuit goes forward. In a lengthy and sorely in need of an edit article written by Haas for the Daily Kos, he lists the procedural necessities:
Haas notes that the Court denied his request for the U.S. Marshal's Office to serve the summons on legal grounds, but that notwithstanding, the case will go forward. It is up to Haas to find the means to have the summons served to the parties involved by February 16. He is gleeful at the prospect.
There are allegations of murder and mayhem in addition to the breaking of federal racketeering laws.
The case number is 2:13-cv-07738 and will be tried in the Los Angeles Division of the Federal District Court, located on Spring Street in downtown Los Angeles.
Stay tuned.
Additional references:
http://theobamacrat.com/2013/12/07/willard-mitt-romney-bain-capital-sued-for-rico-in-federal-court/comment-page-1/#comment-94214
http://stellionata.com/in-the-news/8598-racketeering-lawsuit-haas-v-mitt-romney-going-forward
Update from Haas:
http://www.dailykos.com/story/2013/12/23/1264888/-Haas-v-RICO-Romney-Huge-Case-But-Haters-Are-Nixing-Merits-Debates
---
(Visited 96 times, 1 visits today)