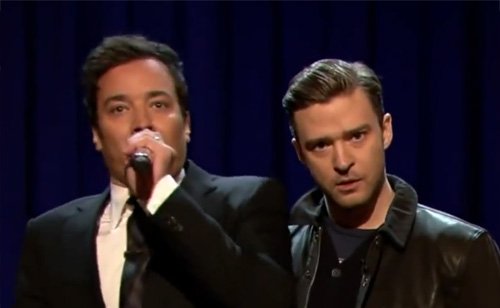 This seriously makes me smile!!
When Jimmy Fallon and Justin Timberlake get together, nothing short of magical brilliance happens. The chemistry between these two extreme talents is amazing. They have performed many times together on places like Saturday Night Live, but for me, these History of Rap pieces that they did on Jimmy Fallon's show, Late Night, are simply the best.
They performed these incredible mash-ups 4 separate times on Late Night….all 4 of them on this video. Take a look at the first one, and see if you aren't drawn into watching all 4. Honestly, these performances are absolutely brilliant. Behold the comedic genius of this song and dance duo….
And if you're like me, and simply can't get enough of these two…they were back together again on Saturday Night Live, December 21, on NBC.
History of Rap, Part 1
Sugarhill Gang – "Rapper's Delight"
Run-DMC – "Peter Piper"
Beastie Boys – "Paul Revere"
A Tribe Called Quest – "Award Tour"
Digital Underground – "The Humpty Dance"
Snoop Dogg feat. Dr. Dre – "Nuthin' but a 'G' Thang"
Tupac Shakur – "California Love"
The Notorious B.I.G. – "Juicy"
The Roots – "The Seed"
Eminem – "My Name Is"
Missy Elliott – "Work It"
Soulja Boy Tell 'Em – "Crank That (Soulja Boy)"
T.I. feat. Rihanna – "Live Your Life"
Kanye West feat. Jamie Foxx – "Gold Digger"
Jay-Z feat. Alicia Keys – "Empire State of Mind"
History of Rap, Part 2
Kurtis Blow – "The Breaks"
Grandmaster Flash and the Furious Five – "The Message"
N.W.A – "Express Yourself"
Public Enemy – "Bring the Noise"
Rob Base and DJ E-Z Rock – "It Takes Two"
Salt-N-Pepa – "Push It"
Vanilla Ice – "Ice Ice Baby"
Fatman Scoop – "Put Your Hands Up"
Cypress Hill – "Insane in the Brain"
DJ Kool – "Let Me Clear My Throat"
DMX – "Party Up in Here"
Nelly – "Hot in Herre"
50 Cent – "In Da Club"
OutKast – "Hey Ya"
Lil Wayne – "A Milli"
DJ Khaled – "All I Do Is Win"
Cali Swag District – "Teach Me How to Dougie"
Rick Ross – "B.M.F."
Biz Markie – "Just a Friend"
Kurtis Blow – "The Breaks"
History of Rap, Part 3
Run-DMC – "King of Rock"
LL Cool J – "Mama Said Knock You Out"
DJ Jazzy Jeff & The Fresh Prince – "Parents Just Don't Understand"
De La Soul – "Me, Myself and I"
JJ Fad – "Supersonic"
Sir Mix-a-Lot – "Baby Got Back"
Young MC – "Bust a Move"
House of Pain – "Jump Around"
Ice Cube – "It Was a Good Day"
Coolio – "Gangsta's Paradise"
The Fugees – "Killing Me Softly"
Beastie Boys – "Sabotage"
Jay-Z – "I Just Wanna Love You (Give It 2 Me)"
OutKast – "Ms. Jackson"
Snoop Dogg – "Drop It Like It's Hot"
Kanye West – "Stronger"
Nicki Minaj -"Super Bass"
Naughty By Nature – "Hip Hop Hooray"
History of Rap, Part 4:
Sugarhill Gang – "Apache (Jump On It)"
Grandmaster Melle Mel – "White Lines (Don't Do It) "
Kurtis Blow – "Basketball"
Fat Boys – "The Fat Boys"
Run-DMC – "It's Tricky"
Beastie Boys – "No Sleep Till Brooklyn"
LL Cool J – "Going Back to Cali"
Slick Rick – "Children's Story"
2 Live Crew – "Me So Horny"
A Tribe Called Quest – "Scenario"
Cypress Hill – "Hand on the Pump"
Wreckx-N-Effect – "Rump Shaker"
Salt N Pepa – "Shoop"
Snoop Doggy Dogg – "Gin and Juice"
Busta Rhymes – "Woo-Ha! Got You All in Check"
The Notorious B.I.G. – "Hypnotize"
Missy Elliott – "Get Ur Freak On"
Jay-Z – "Izzo (H.O.V.A.)"
Nelly – "Ride Wit Me"
50 Cent – "P.I.M.P."
Chamillionaire – "Ridin Dirty"
Wiz Khalifa – "Black & Yellow"
Trinidad James – "All Gold Everything"
Macklemore & Ryan Lewis – "Thrift Shop"
Eminem – "Lose Yourself"
(Visited 11 times, 1 visits today)