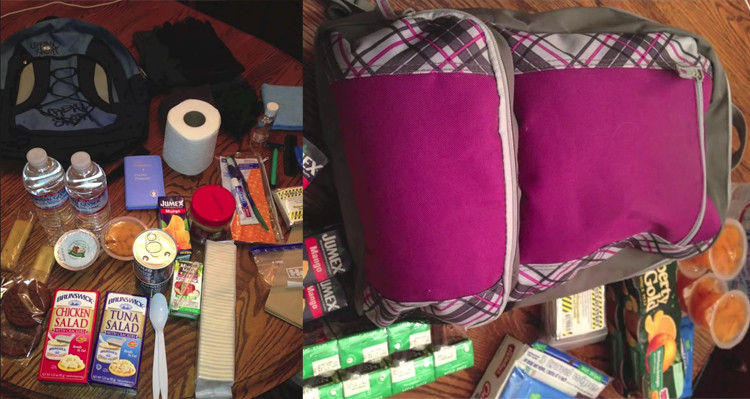 With winter less than a month away, this is an easy and inexpensive way to help the less fortunate – the homeless.

A couple from Washington State share how they help homeless people with a backpack full of useful items for $20 or less.
They explain how you can find good, sturdy, used backpacks at thrift stores as well as beanies, warm scarves, socks and gloves.
Dollar stores are a great place to find moist wipes, toilet paper and toiletries like toothpaste and mouthwash – a luxury for people who have nothing.
Some food items that pack well are cereal bars, small canned goods with pull tabs, bottled water and juice boxes. Peanut butter is full of protein and lasts a long time.
As the couple in the video explain:
We make homeless care backpacks and we do it for $20 dollars or less per backpack. I shop at thrift stores for used backpacks that cost $1 to $3 dollars…. At the thrift store I also look for beanies and warm scarfs, beanies usually cost around $1 dollar and warm scarfs can be $1 to $2 dollars. If you can find mittens or gloves, that's a great place to get them. Also socks.

We hit the DOLLAR TREE for most of the other items we put in the pack, like personal care items like: toothbrush and toothpaste, deodorant, bar soap, wet-wipes, razors, combs, hand sanitizers, toilet paper. This is also where we get the basic food supplies that we put in there; cereal bars, granola bars, ready made chicken, salad – tuna salad, saltine crackers, we do fruit cups, apple sauce, we try to do small containers of natural fruit juices, we do bottled water, but one of the most important things for this pack is PEANUT BUTTER. Peanut Butter is a great source of protein and [lasts] a long time.
It's a cold winter and there are people who need your help. This is a great and inexpensive way to make sure someone who is less fortunate has a full belly and a warm head.
The couple explains how they keep a backpack ready in each of their cars – just in case they are out and about and they see someone in need.
They go on to explain that: "My wife and I each make about 20 Backpacks a year. We started off slow making 3 or 4 the first year and its kind of grown over the course of time. We actually found that as time goes on and we buy more products and we store those products and we put Backpacks together as needed it actually gets easier and easier."
(Visited 3,453 times, 1 visits today)