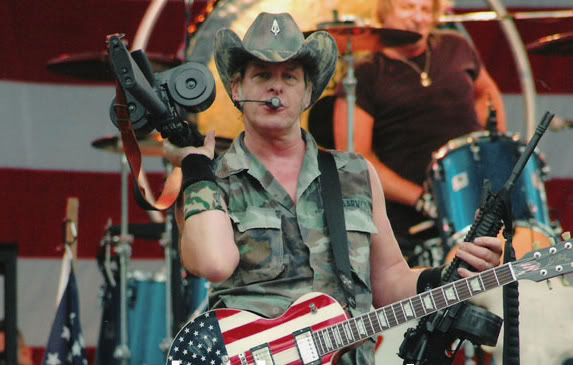 Long gone are the days when I was a teenager and would pull out a Ted Nugent album and have fun rocking out to Cat Scratch Fever or Stranglehold, throwing my two-fingered horn symbol in the air in allegiance to the "Motor City Madman."
Today's Ted Nugent, however, is no longer fun to listen to. In fact, his comments on any given day are usually lewd, purposefully inflammatory, overtly sexist and downright scary. Considered a conservative extremist, Nugent has let his big mouth get him into trouble on more than one occasion.
In April of 2012, while stumping for Mitt Romney at an NRA convention, Ted was quoted saying, among other offensive and threatening remarks,
"If Barack Obama becomes the president in November, again, I will either be dead or in jail by this time next year. If you can't galvanize and promote and recruit people to vote for Mitt Romney, we're done" Asking the crowd the best way to galvanize and promote he responded, "We need to ride into that battlefield and chop their heads off in November. Any questions?"
These comments from Nugent prompted the Secret Service to pay him a visit.
This begs the question why Texas Attorney General Greg Abbott (R) (aside from being a supporter of gun rights himself) feels that having Ted Nugent stump for him is such a good idea. Abbott is running for the Republican nomination to oppose Texas State Senator Wendy Davis (D), for governor of Texas. Ted will be joining Abbott in two campaign appearances, one in Denton the other in Wichita Falls.
Davis, who has been the target of multiple sexist remarks from Republicans of late, could likely win over support if Nugent slips up and goes too far, which he has been known to do on many, many occasions.
Having Ted Nugent in the other camp, spewing his extreme conservative and sexist bullsh*t, could be a political and race-ending nightmare for Abbott. Seems awfully risky…but hey, I'm all for it.
Let's take a look and see just how far Nugent has gone with his misogynistic and downright frightening rants against women over the years. Here are Ted's top 10 greatest hits:
So, Mr.Abbott, I hope your new partner works out just great for you and your campaign. Just don't forget to bring your guns because when Ted's talking you may just have to take him out…with a tranquilizer gun, of course. We all know ole' Teddy wouldn't fault you given your sacred Second Amendment rights.
(Visited 191 times, 1 visits today)