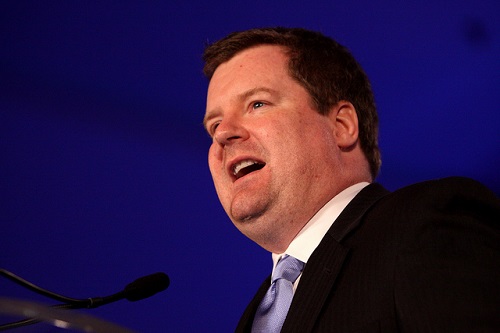 Right-wing blogger Erick Erickson has proclaimed that liberals want to have sex with the POTUS. The man who coined the term "Abortion Barbie" had an angry meltdown on his RedState.com blog. Again.
In his blog titled Impeach The President, Erickson opined, "You guys in the press who are reading this right now can be such shameless whores. But you journalists have such erections for everything Barack Obama does, you can't even summon outrage to report fairly on the latest b.s. from the administration over Obamacare. Is it any wonder so many people have stopped trusting you?"
The blog was posted in response to the decision by the Obama administration that allows small businesses more time so they can comply with the provisions in the Affordable Care Act requiring them to insure their employees. Erickson commented that if President George W. Bush had done something similar, the media would have attacked him for it.
The ACA's new rule is that a business with 50 to 99 employers must wait until 2016 to implement the employee mandate, provided no employees were laid off to reach that number. The administration did, however, leave a loophole in which a business can lay off employees for "bona fide reasons."
One Obama administration ally told Politico that the move is "an exercise of the Department's longstanding authority to grant transition relief when implementing new legislation."
Erickson argued that there can only be one explanation why no one is asking why the administration is so willing to believe what businesses say, "But with President Obama, half of MSNBC still wants to have his baby and the women over there just want to be his mistress. Hell, France's President has one."
This, coming from the man who said Supreme Court Justice David Souter is a "goat f*cking child molester." Erickson also said that Kentuck Senator Mitch McConnell "lost his testicles" and called on fellow conservatives to "collectively rip off his jaw and shovel the crap back down his throat that he's been serving us."
---
(Visited 3 times, 1 visits today)