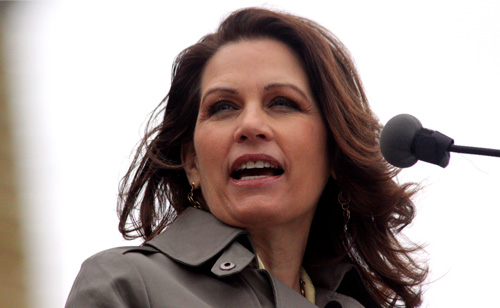 In an interview with Sandy Rios from the American Family Association, Rep. Michele Bachmann speaking on the issue of Obamacare confidently declared:
"God listens to his people and I think if believers humble themselves, confess their sins, and pray, I think God hears from us, hears our hearts and He moves, He moves in miraculous ways."
This recent quote from Bachmann echoes previous sentiments from a conversation she had with James Dobson only last year.  Bachmann had previously stated,  "God is going to answer our prayers" and repeal Obamacare.
The Congresswoman firmly believes that the evil Democrat machine will be ousted from the Senate and be delivered to the Republicans so that they can repeal Obamacare and thus rid the world of the dark and sinister forces currently prevailing.
Bachmann anticipates to "see a very strong election result this fall, both in terms of winning over the Senate and holding on to the House." Most importantly, Bachmann forewarns us that the real goal is keeping Hillary Clinton,"the Godmother of Obamacare", from winning the Presidential election in 2016. The Congresswoman continued:
"Voters need to realize that if she becomes the next President of the United States we will in all certainty see socialized medicine…and the people reject that."
Bachmann recognizes that this war is not yet won and further warns,  "it isn't a guarantee, we've got a lot of work to do between now and then, particularly on our knees in prayer."
Pleased to meet you Congresswoman, hope you guess my name. I sure hope the Almighty hears you, in your moments of doubt and pain. Just a parting question,will God be on the side of those who support Obamacare if it is not repealed? Hmm…
Watch the interview below:
(Visited 116 times, 1 visits today)