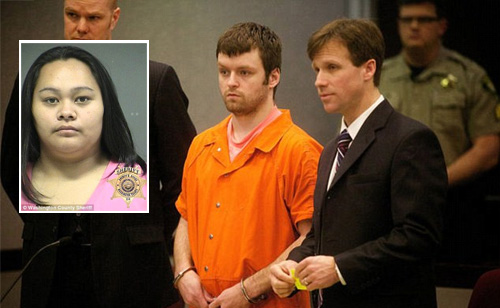 Prosecutors said that Jessica Dutro believed her 4-year-old son was gay, so she beat him to death.
Zachary Dutro-Boggess collapsed at the homeless shelter where he was living with his mother. He was hospitalized Aug. 14, 2012, one day after his fourth birthday, with trauma to his abdomen which caused tears to his bowel, and urine and fecal matter seeped into his body cavity and damaged his vital organs. He was taken off of life support two days later.
Dutro has been charged with murder, murder by abuse and second-degree assault and is on trial in a Washington County Circuit Court.
Judge Don Letourneau ruled that a Facebook message to her boyfriend was admissible as evidence. Prosecutor Megan Johnson argued the message established Dutro's motive for inflicting a pattern of torture and abuse to her son. Authorities reported Dutro abused all three of her children but they say Zachary got the brunt of it.
Dutro's Facebook massage to her boyfriend, Brian Canaday, said that Zachary was "facing the wall" because he made her mad. She wrote that her son was going to be gay. "He walks and talks like it. Ugh."
Canady would have to "work on" Zachary, she wrote.
Earlier this month, Canady confessed to kicking the boy in the stomach because he refused to sit down and watch television like he was ordered to do, and that instead, the child took his shoes off first. Initially charged with one count of murder, four counts of murder by abuse and one count of second degree assault, he then changed his story and took a plea deal and admitted to to first-degree manslaughter and second-degree assault. In exchange for the reduced charges, Canady will testify against Dutro. If his testimony remains consistent with his plea statement, he faces 12 and a half years in prison.
Prosecutors said Dutro ran her family "like an army" and she took discipline to abusive extremes.
Authorities said her 7-year-old daughter and 2-year-old son showed signs of physical abuse, including multiple fractured ribs for the younger boy. Dutro's daughter testified against her in court saying her mother would give her and her siblings "lickings" when they were bad.
The Judge also ruled that online searches by Dutro would be admissible as evidence.
Prosecutors said that the day Zachary was taken off of life support, Dutro searched the terms "anger management," "parenting classes," and she looked at listings for free stuff and sex with strangers.
---
(Visited 7 times, 1 visits today)