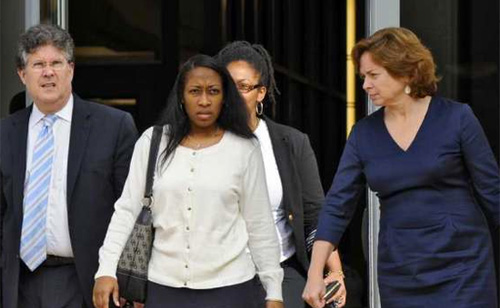 If the above photo gives the impression that Marissa Alexander is in some kind of shock and disbelief, you would most likely be correct. It's now reported prosecuting attorney, Angela Corey, will seek a triple sentence of 60 years against Alexander, for firing a warning shot in self-defense.
In 2012, Alexander was sentenced to 20 years in prison by Circuit Judge James Daniel, under Florida's 10-20-life laws. Alexander fired the shot to keep her abusive husband from attacking her. A protest campaign called, Free Marissa Now, was created before Alexander's trial and has continued ever since. When George Zimmerman was found not guilty after killing Trayvon Martin, the public outrage exploded not only over his verdict, but over the disparity between the cases of Zimmerman and Alexander. Marissa Alexander fired one warning shot, hurt no one, and was pulled away from her children and thrown in prison for two decades. Zimmerman shot a teenager to death, and walked out of the courtroom a free man.
The Free Marissa Now protests and petitions grew stronger and more attorneys joined Alexander's case. Her original trial was overturned in September of 2013, on grounds that the court placed an undue burden of proof on Alexander, who was acting in self-defense. Prosecuting attorney, Angela Corey could have dropped the case then, but refused to back down. Ironically, Corey was the prosecuting attorney in the Zimmerman trial and was said to have been rather smug over the attention and press she received. Though Alexander's new trial was set for the following March, it wasn't until Thanksgiving before Marisssa Alexander was finally allowed to go home on house arrest to be with her children while awaiting her second trial, now scheduled for July 2014.
Alexander's Attorney Bruce Zimet, made several comments:
He (Zimet) plans to get Alexander acquitted at trial by arguing that she was acting in self-defense. But he also  intends to argue that the 10-20-life law is unconstitutional because it violates the 8th Amendment prohibition on cruel and unusual punishment, and will claim that Alexander cannot be sentenced to 60 years since she was only sentenced to 20 years at her first trial.

George "Bob" Dekle, a retired prosecutor who is now a law professor at the University of Florida, said if Alexander is convicted again the issue of whether she should get 60 years in prison could end up going to the Supreme Court.
In March of 2010 Alexander felt her life was in danger when she fired the warning shot.
THE SELF-DEFENSE CLAIM

Alexander has claimed she fired a warning shot at her estranged husband, Rico Gray, and wasn't trying to hit Gray or his two children from a previous relationship. She has said the incident, which happened days after she'd given birth, began when Gray accused her of infidelity and questioned whether the newborn child was his.

Alexander told him to leave and locked herself in the bathroom until he broke through the door, grabbed her by the neck and shoved her to the floor.
She ran into the garage but found she couldn't leave because the garage door wouldn't open, according to the report.

She got a gun from the glove compartment of a car in the garage, went back into the house and when Gray saw her, she said he charged, saying he was going to kill her. Alexander fired the gun.
The prosecution questions whether Alexander was truly in danger and whether she fired the shot directly at Gray.
Here is what continues to baffle and infuriate me, and I would imagine many others who are aware: Alexander's husband, Rico Gray, admitted in his deposition and under oath, that he had beaten Alexander (and his other 'baby mamas'). Gray stated Marissa Alexander did not point the gun at him, and that she did the right thing. He said he would have hurt her had she not fired the warning shot.
So then, what happened? Gray later changed his story. Well, of course he did. He had incriminated himself with those statements and had they come up in court, he'd have been the one to jail. Instead, Gray testified he feared for his life. It takes all of my calming skills when I write about this case. The injustice taking place is incredible, and again evident on Marissa Alexander's face in the photo. I can't imagine the fear she must be experiencing after having been sentenced once already, to 20 years, and now knowing 60 years in prison could very well become a reality given Florida's fucked-up Gunshine state laws.
"It's unimaginable that a woman acting in self-defense, who injured no one, can be given what amounts to a life sentence," said Free Marissa Now spokeswoman Helen Gilbert. "This must send chills down the spine of every woman and everyone who cares about women and every woman in an abusive relationship."
Once again, the Florida courts take an unfavorable national spotlight, and many of us will hold our breath in fear of what verdict and sentence will be imposed upon Alexander this July. And I will not stop writing about this case until Marissa Alexander is free.
Source: Florida Times Union
Special thanks to Jennifer Rao.
If you're in an abusive relationship, or know someone who may be, there is help: Call: 800-799-SAFE/National Domestic Violence Hotline or Call: 800-656-HOPE/RAINN (Rape,Abuse, & Incest National Network)
---