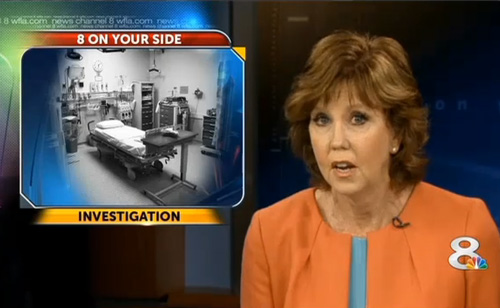 WFLA's 8 On Your Side Investigation reports that "a 15-year-old Highlands county [Florida] girl, who was heavily medicated and sedated at Highlands Regional Medical Center, was sexually molested in her ICU bed."
The girl's mother who WFLA is calling Michelle is currently suing Highlands Regional and its parent company Health Management Associates Inc., for negligence and the hospital, its parent company and attorney are hitting back blaming the victim and her mother.
Michelle told WFLA "I get angry, because not only did you not protect my daughter, but then you're going to blame it on a 15 year old, who was in your ICU."
According the hospital's website, visitors to ICU are limited to "Immediate family only," and Michelle specifically instructed hospital officials to deny entry to 16 year old Jesse Maness who later confessed to the attack.  However, against those orders, nurses at Highlands Regional allowed Jesse into the ICU to visit Michelle's daughter, who WFLA calls Jenny (an alias to protect her actual identity as a victim of abuse).
Michelle told WFLA "I said under no circumstances is this person allowed in, he was trouble."
The morning after Jenny had been admitted an ICU nurse pulled Michelle aside and told her that Maness had been allowed into Jenny's room. WFLA reports that worse yet, "She said I don't know how to tell you this, I hope it's nothing, but I found this on the floor in your daughter's room, and it was an open condom wrapper," Michelle said.
At this point Michelle contacted the contacted the Highlands County Sheriff's Office and in a recorded interview with a Highlands County Sheriff's investigator, obtained by 8 On Your Side, Maness spilled it.

"Can you tell me what happened when you went to the hospital," investigator Kevin Gentry asked.

"We had sex," Maness quickly responded.

Gentry asked Maness if Jenny slurred her words or said anything weird during the incident in ICU.

"Did she act any different to you when she was in the hospital," Gentry inquired.

"No sir, she acted normal to me. I mean, like she was tired a lot," Maness responded.
Maness was eventually charged and convicted as a juvenile of felony lewd and lascivious behavior with a minor and felony molestation of a child and was "placed on probation, ordered to complete 20 hours of community service, have no contact with the victim, write a letter of apology to the victim, attend school full time with no unexcused absences or referrals. Sex offender treatment was also ordered," as reported by WFLA.
Michelle then filed a lawsuit against Highlands Regional Medical Center.  St. Petersburg attorney Sam Heller represents Michelle and her daughter and tells WFLA that what happened to Jenny represents an egregious and systemic failure by Health Management Associates, Inc. and Highlands Regional Medical Center to provide a safe environment for its patients.
"It is unfathomable that a 15 year old girl under heavy sedation in the intensive care unit was sexually molested," Heller said.
WFLA reports that over the course of the last nine weeks, "8 On Your Side reviewed law enforcement reports, prosecutor affidavits and hundreds of pages of court documents related to Michelle's lawsuit. "
The lawsuit claims despite explicit instructions, ICU employees permitted Maness to enter Jenny's room, where they observed him in bed with her. And while Jenny was heavily sedated, Maness had nonconsensual sexual intercourse with her.

Court records also show, the hospital and its attorney Barbara Flanagan blame Jenny and her mother for what happened. The hospital claims mother and daughter's negligence was the sole or contributing cause of Jenny's injuries.

Neither Hess, nor Flanagan would explain that accusation when approached.
Additionally and in spite of the taped confession and conviction of Maness, the hospital went as far as sending a letter to Michelle denying any abuse even occurred. The letter from Highlands Regional Medical Center's director of risk management, Lynn Grace, stated that an in-depth internal investigation had been conducted and that "The internal investigation did not identify any objective evidence to support allegations of abuse during your daughter's hospitalization."
Michelle tells WFLA in the video below that:
"I think people should know when there is a company or a hospital that can't be trusted, doesn't care about taking care of people and even when they do find out that something like this has happened, and it is so alarming, they choose to do nothing about it."
You can watch the news clip below.
(Visited 26 times, 1 visits today)