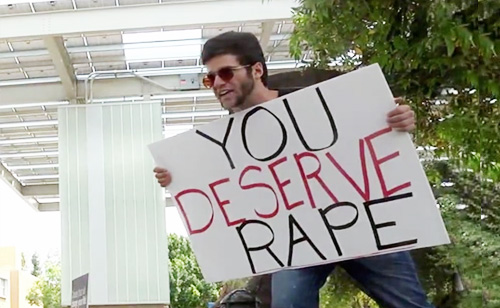 FOX 10 reported that a self-proclaimed preacher held up a sign that read "You Deserve Rape" on the Arizona State University campus. Needless to say, he was met with an angry crowd.
His name is Dean Saxton but he likes to go by the name Brother Dean.
He defended his bold, insulting behavior with his right to freedom of speech. He pulled a similar stunt at the University of Arizona last year, and this past Friday, he "preached" his BS on the ASU campus.
"Most of you women out here by the way that you are dressed, I can tell that your father hates you."
Students were shouting at him and at one point, someone dressed like a banana mocked him. It is not clear why the person was wearing a banana suit, but who cares? It's kind of awesome that a human banana was mocking Saxton.
Kat Hofland is the president of ASU's sexual violence prevention group I Always Get Consent.  She says Saxton's sign sends a terrible message to rape victims.
"I was really offended by that video, Hofland said.
"No matter what your religion, no matter what your political view is, rape shouldn't have anything to do with that.  Rape is evil, rape is wrong.  There is no person who deserves to be raped," she said.  "This is a relatively rare event. I have never seen it on our campus before."
ASU issued a statement to FOX 10:
"Last Friday an individual characterizing himself as "brother Dean" was present on one of the campus malls expressing his personal religious views.  A handful of ASU students expressed their personal disagreement with the statements that were being made.  A college campus is a marketplace of ideas. ASU is strongly committed to freedom of speech.  Respect for that right sometimes results in speech that others fine offensive and abhorrent. 

The university also stands against any assault upon the dignity and value of any individual through harassment that substantially interferes with his or her educational opportunities, peaceful enjoyment of residence, physical security, or terms or conditions of employment. The Office of Equity and Inclusion is the office charged with evaluating claims of discrimination on campus. For matters that may violate criminal law, ASU Police provides information and assistance. Students and employees are encouraged to contact these offices as appropriate."
As noted above, this is not the first time this yahoo has pulled this kind of stunt and last year as a means of counter-protest, another student has put together a video for YouTube about Brother Dean and his hateful tactics that you can watch here.
Below is a news clip from Fox 10 on this latest round of BS.
FOX 10 News | fox10phoenix.com
(Visited 247 times, 1 visits today)