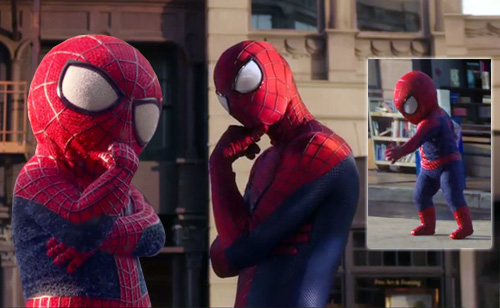 The Amazing Spiderman meets his Amazing Baby-Me and is challenged to a dance-off.
Evian has a long history of using babies in its ads. Playing on the idea that water makes your body feel youthful, Evian introduced to world to its "Water Babies" ad back in 1998.  The company followed up in 2009 with the viral sensation "Evian Roller Babies" [below] which has gathered over 74 million YouTube views to date.
Most recently, the company gave us the most-watched ad on YouTube back in 2013 with "The Amazing Baby & Me." [below] In this video, which claims over 76 million views, adults danced with reflections of themselves as babies.
In that same vein, Evian has released "The Amazing Baby & Me 2" in which Spiderman faces a dance-off with his baby reflection.
You can watch the ad below.
Evian Spider-Man – The Amazing Baby & Me 2


Evian Baby & Me



Evian Roller Babies


(Visited 405 times, 1 visits today)