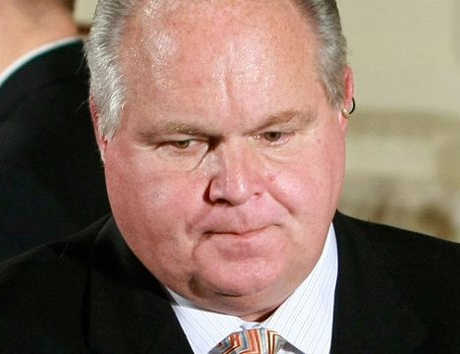 (Updated April 14, 2014)
This is very good news. More recent, and well-known Rush Limbaugh sponsors have not been heard advertising on his show in months. As of April 12, 2014, some of these missing sponsors include:
Sodastream, Club Glove, Fin Electric Cigarettes, Mannheim Steamroller, Kars4Kids, Sears, Taco Bell, Jewelry Exchange, National Association of Realtors, SweetJack, New Vitality, Greenlight Financial Services, Stanley Steamer, Midas, Income At Home, Verengo Solar, Taste Of Home, Gold Bond, NFL Monday Night Football, Reagan.com, University of Iowa, Blue Bell Ice Cream and Hammermill Paper
This is in the addition to the thousands of national and local sponsors who have already pulled ads from radio's most hateful talk show host. The boycotts, petitions, and protests continue to kick his ad revenue, as well as the assets of the radio networks that carry him. More and more consumers and activists are jumping into the protest via BoycottRush, StopRush, and FlushRush.
On the other side, here are some of the sponsors who continue to hang or who have returned:
U.S. Marine Corps, Marvin Window & Door, Advance Auto Parts, Cox, Allegra, Quicken Loans, Menards, ProFlowers, Insperity, Power Swabs, 1-800-GotJunk, 1-800-Donate Cars (aka Heritage For The Blind), Visting Angels, Dinovite, Lifelock
Note: Angie's List, the right wing, on again/off again Limbaugh sponsor, was reported in the StopRush database during March. The company that Krystal Ball says 'has a problem with women', denied the ad allegations until they were sent proof showing dates and stations where their ads were heard. After StopRush published the Angie's List data, it was immediately posted in Join The Fight To FlushRush (20k+ members) and in BoycottRush Facebook Group (80k+). Hundreds, if not thousands, of consumers began contacting the already troubled, Angie's List. After the company heard from enough consumers, they pulled their ads (again). Complaints are not new to Angie's List. The company whose board consists of eight men and two women, claimed their ads were meant for the Sean Hannity Show… Ohhhh, okay. Kind of like the 'same church – but a different pew.'
While Rush Limbaugh continues to use shock within his odious news, just like the crying wolf story, not many are listening, believing, or buying Rush Limbaugh's bullshit anymore. Nor are many buying from his sponsors. In addition to all who have bolted, we will never know the exact number of companies who opted not to advertise with him at all, due to the national boycott, or those who requested 'No Rush Limbaugh' clauses, before buying ad blocks from Clear Channel and Cumulus radio networks. What matters is the American consumers are not giving up. They aim to see this through. And although Limbaugh is probably hanging on via Koch/Tea Party money, the public is sending their strong message against racism, misogyny, homophobia, and bigotry. They are making a difference. And they are winning.
To help facilitate a quicker Limbaugh sell-by date, you can visit/join:
BoycottRush Facebook Group
Limbaugh Sponsor/Clear Channel/Cumulus Petition
Join The Fight To Flush Rush Facebook Group
The StopRush Extensive Sponsor Database
The boycotts are also being supported by women's rights organizations like, UniteWomen.org and NOW — and by many progressive sites/pages including: Addicting Info, Being Liberal, Daily Kos, Media Matters, Liberals Unite, and Political Loudmouth.
Sponsor Information Courtesy of StopRush.net. 
---