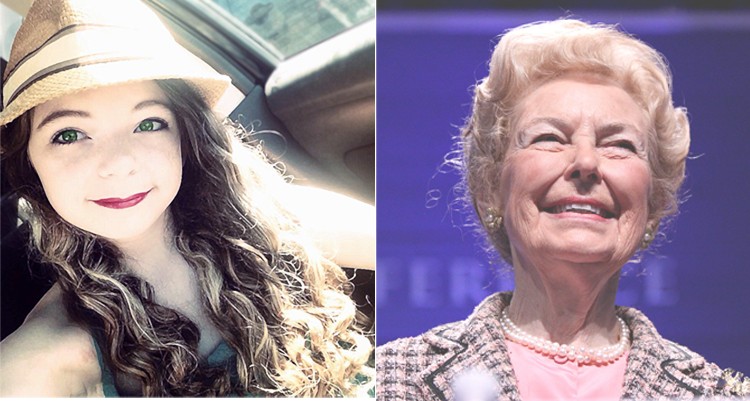 Dear Ms. Schlafly,
I'm a teenage girl who has been reading about you quite a bit in the news lately. It seems to me that you have absolutely no idea what women of my generation are all about. I can understand that because I often deal with older people who think that their generation is superior and my generation is the worst thing ever just because we're different. Really though, I think since you want to be all up in the public eye, it would really do you a lot of good to understand things from the perspective of one of the young women who will be taking over this country soon.

I've been thinking about how I can explain what feminism means to my generation in a way you might not have thought of before. I wanted to try to work from something we have in common, and it's been kind of hard to find something I have in common with you. Then, it came to me. I bet you wear a bra.
I was reading recently about a company called Yellowberry that was started by a young woman because she took her younger sister bra shopping and her sister didn't like any of the choices. None of the bras fit her, and she felt the selections were too sexual. So she started a line of bras so that girls would have more options. As for myself, I shop at Victoria's Secret. It's not because I want to be sexy or have any grand delusions of looking like one of their models. I shop there because they have different styles of bras so I can find something I think is pretty that fits me. I don't know where you shop for your bras, but I bet you have a favorite one. I bet you have that one bra that's comfortable and goes with just about everything. I bet the last thing you were thinking about when you bought that  bra was what a man would think about it.
Well, making choices in our lives as young women is kind of like finding that favorite bra. Not all of us are going to fit into the same kind and not all of us are going to find the same style attractive. We all deserve to have as many choices as possible, and as women, we shouldn't be judging the choices made by other women. Choosing a bra is a very personal choice and is none of anyone else's business. We should be, as women, looking for ways we can expand the choices both for ourselves and other women, just as Megan Grassell did when she started Yellowberry. Equality doesn't mean women will all make the same choice. It means women will be treated the same no matter what choices they make.
This brings us to the idea you have that women shouldn't have equal pay because it will make it more difficult for them to find husbands. What you're doing is attempting to limit my choices, and I don't appreciate that. Let's get one thing straight here. When I'm thinking about what kind of career I want to have, it's a lot like shopping for a bra. I want to find something that fits me and appeals to me, and I'm not thinking about pleasing a man. Anyone who wants to be my partner in life is going to have to truly respect me, appreciate me for who I am, and honor the choices I make.

What you're doing, Ms. Schlafly, is contributing to something very disturbing I see happening with some of the teenage girls I know. At a time in their lives when they should be free, independent, and exploring and preparing for the possibilities they have in the future, many of them are worried about getting or keeping a boyfriend. There are young women my age who are extremely smart but they hide it because they get messages from women like you that if they are too smart or successful, boys won't like them. They get messages from women like you that pleasing a man should be their number one goal. You're contributing to making young women uncomfortable when they go bra shopping because they've learned to analyze every choice based on what other people will think instead of having the freedom and confidence to choose what's best for them.
I'm going to continue the work my mother and my grandmothers started, the work you have fought so hard against. I'm going to work to help get the Equal Rights Amendment (ERA) ratified in my lifetime. Once this is done, it's going to take some time to undo a lot of the damage women like you have caused. It's going to take time for society to evolve once women finally have the equality we deserve. But I believe that my daughters will look at history and see women like you the same way I see women who tried to prevent us from getting the right to vote. I believe that bra shopping is going to be a lot easier for my daughters than it is for girls today.
Sincerely,
Madison Kimrey
This letter has also been published, with permission, in the book AMERICAN WOMAN The Poll Dance: Women and Voting.
Madison Kimrey is student, actress, aspiring writer and activist who fights for LGBT rights, humane treatment of animals, women's rights and promotes youth activism and participation in democracy.  Like Her FB page NC Youth Rock HERE.
(Visited 1,648 times, 1 visits today)