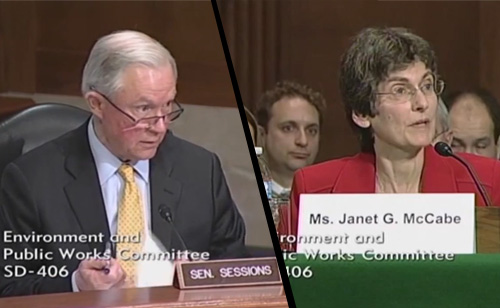 Senator Jeff Sessions (R-AL) is threatening to block the appointment of President Obama's nominee to lead the Environmental Protection Agency's clean air office because she believes that climate change can influence extreme weather events.
As reported by Think Progress, "During Janet McCabe's confirmation hearing, Senator Jeff Sessions (R-AL) cited research from two Singaporean scientists and a widely-disputed political scientist to claim that there is no connection between intensifying weather and climate change."
As you can see from the partial transcript below, from Think Progress, McCabe "attempted to refute the claims, but was repeatedly interrupted:
Sessions: You believe that we've had more storms, more hurricanes.

McCabe: I believe that the scientific record shows that, over a long period of time and over broad geographic areas, there have been changes in our climate that…

Sessions: You dispute, then, the [Intergovernmental Panel on Climate Change]'s recent finding, that "current data set indicate no significant observed trends in global tropical cycles frequency over the last century." That's the international panel on climate change.

McCabe: I know that the IPCC has made many findings relative to the effects of climate change around the world.

Sessions: Well, I'm just going to tell you, I'm going to submit this is writing to you, and if you continue to insist that we've had more hurricanes in the last century and that they've increased as a result of global warming — climate change — I don't see how i can support your nomination. I don't see how I can support somebody who can advocate against plain fact. My time is up.
Apparently proud of himself, Sessions posted the following text on YouTube which accompanies a video of the exchange between him and McCabe.
Janet McCabe, currently the Acting Assistant Administrator of EPA's Office of Air & Radiation, the division at EPA responsible for air regulation and climate policy, was questioned today regarding claims by the Administration that extreme weather events are increasing. When asked by Senator Sessions for specific data to support extreme weather claims, Ms. McCabe replied, in part, that "I am not familiar with exact statistics," despite being nominated by the President to run a division of the EPA that would impose billions of dollars in costly and intrusive regulations on American workers and their families based, in part, on claims about extreme weather.

Ms. McCabe's answer today is especially noteworthy in light of her claims in a March 12, 2014 hearing before the House Science Committee, where she was asked to explain "some of the costs associated with the lack of action to address climate change and increasing emissions." At that hearing, Ms. McCabe responded: "There are costs to our economy and to society from the impacts of climate change that is already happening. In 2013, there were seven extreme weather events. Which I think is a nice way of saying great, big, huge horrible storms that cost the economy over a billion dollars each. This is a real economic impact on our communities, our families across the country… The scientific community has identified a number of impacts of climate change. Among those are increased frequency and intensity of extreme weather events."
You can watch the senator in action, below:


(Visited 21 times, 1 visits today)