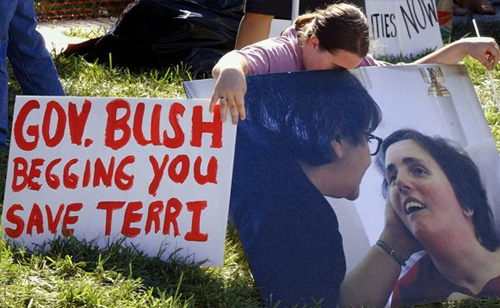 The controversy over Terri Schiavo's case elevated a family matter into a political battle that continues to frame end-of-life issues today.
As the New York Times reports, "For 15 years, Terri Schiavo was effectively a slave — slave to an atrophied brain that made her a prisoner in her body, slave to bitter fighting between factions of her family, slave to seemingly endless rounds of court hearings, slave to politicians who injected themselves into her tragedy and turned her ordeal into a national morality play."
"To this day, the name Schiavo is virtually a synonym for epic questions about when life ends and who gets to make that determination. It would be nice to believe that since Ms. Schiavo's death nine years ago, America has found clear answers. Of course it has not, as is evident in Retro Report's exploration of the Schiavo case, the latest video documentary in a weekly series that examines major news stories from the past and their aftermath."
You can watch the documentary, below.
The video with this article is part of a documentary series presented by The New York Times. The video project was started with a grant from Christopher Buck. Retro Report has a staff of 13 journalists and 10 contributors led by Kyra Darnton, a former "60 Minutes" producer. It is a nonprofit video news organization that aims to provide a thoughtful counterweight to today's 24/7 news cycle. Previous Retro Report videos can be found here, and articles here.
(Visited 63 times, 1 visits today)