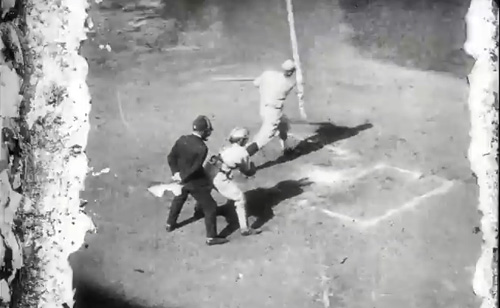 Footage of the scandalous 1919 World Series game has been uncovered by British Canadian Pathé News.
Below is an excerpt from Pathé News showing various baseball games between the Chicago White Sox and Cincinnati Reds in the 1919 World Series.  The material is from the Dawson City Museum and Historical Society Collection, as well as Library and Archives Canada.
The events of the series are often associated with the Black Sox Scandal, when several members of the Chicago franchise conspired with gamblers to throw (i.e., intentionally lose) the World Series games. The 1919 World Series was the last World Series to take place without a Commissioner of Baseball in place. In 1920, the various franchise owners installed Kenesaw Mountain Landis as the first "Commissioner of Baseball."

In 1921, eight players from the White Sox, including superstars Shoeless Joe Jackson and Eddie Cicotte, were banned from organized baseball for fixing the series (or having knowledge about the fix).
(Visited 31 times, 1 visits today)