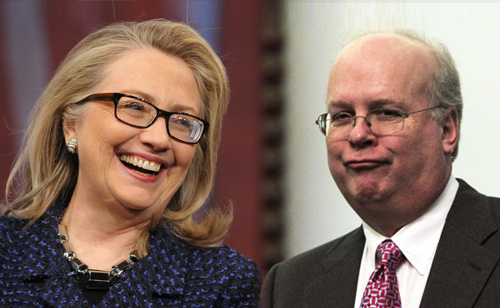 FOX "News" contributor Karl Rove falsely suggested that Hillary Clinton is suffering from a "traumatic brain injury" as a result of a fall back in 2012. He later told the Washington Post he didn't say it.
Onstage with Robert Gibbs and CBS correspondent and "Spies Against Armageddon" co-author Dan Raviv,  Rove urged Republicans to keep Benghazi conversations alive onto the 2016 election.
The New York Post reported that on May 8, Rove told an audience that he was skeptical of Hillary Clinton's recovery after she fainted and fell in her home in December 2012. Her testimony before a House committee about the attacks in Benghazi and Libya was postponed so she could recover. Rove said that her fall resulted in unanswered questions and he claimed her corrective glasses are likely a sign of 'taumatic brain injury."
Rove warned that if Clinton runs in 2016, voters need to know what happened as a result of her fall in 2012.
At a conference near LA on Thursday, he told the audience that the official diagnosis was a blood clot. "Thirty days in the hospital? And when she reappears, she's wearing glasses that are only for people who have traumatic brain injury? We need to know what's up with that."
He repeated the claim many times.
Here's the thing – his claims are false! He had no evidence to back up what he was saying.
Clinton spent FOUR days in the hospital after a blood clot in her brain was discovered. Not thirty. Additionally, the State Department along with experts say the corrective glasses worn by the former Secretary of State during her testimony in January 2013, treat double vision – NOT brain damage.
Rove has changed his story and has told the Washington Post, "Of course she doesn't have brain damage." He added "She didn't feign illness," in regard to the trial delay.
You can expect more orchestrated Benghazi confusion and hysteria from the right because they have nothing else.
BENGHAZI!!!
---
(Visited 17 times, 1 visits today)