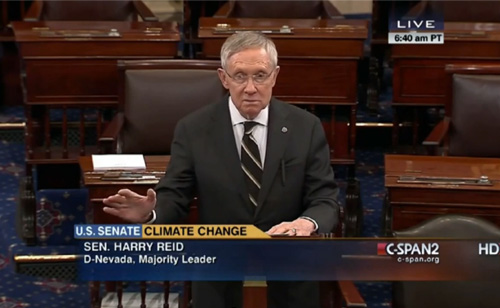 On Wednesday, Senate Majority Leader Harry Reid (D-NV) called the Koch brothers "one of the main causes" of climate change.
"While the Koch brothers admit to not being experts on the matter, these billionaire oil tycoons are certainly experts at contributing to climate change. That's what they do very well. They are one of the main causes of this. Not a cause, one of the main causes."
Reid used the recent Climate Change Assessment to make that claim, also referred to a 2013 study by the Political Economy Research Institute of the University of Massachusetts at Amherst — the Greenhouse 100 Polluters Index.
Reid noted that U-Mass. "ranked Koch Industries as one of the nation's biggest air and water polluters, period. In one year Koch Industries released 31 million pounds of toxic air. How much is that? It's more than Dow Chemical, Exxon Mobil and General Electric combined emitted. They are the champions."
The Washington Post ranks that claim as false, publishing:
Actually, the report lists Koch Industries at 24 million metric tons of greenhouse gas (CO2 equivalent emissions), which puts the company at 27th on the list, responsible for 0.36 percent of total greenhouse gas emissions in the United States. Exxon Mobil landed in 14th place, with 39 million tons, Dow Chemical was 44th with 15 million tons and GE was not on the list. Combined, those companies actually had more than double the emissions of Koch Industries.
The Post goes on to cite two other reports which counter Reid's claim, one by PriceWaterhouseCoopers, and the other report by Richard Heede of Climate Mitigation Services.
However, Reid is sticking by his claim. The Post reports, that "Adam Jentleson, Reid's spokesman, provided the following statement in response:"
The fact is that Koch Industries is one of the leading U.S. carbon emitters, and there is no doubt that the carbon emissions for which they are responsible have contributed to climate change and the dangerous and often deadly consequences that result. We can argue over whether being 27th out of many thousands of companies qualifies as "major," but we would argue that it does.

The overall point of Senator Reid's speech was true: Climate change is real and the Koch brothers — who as co-owners of Koch Industries are two of the leading U.S. emitters of the carbon emissions that cause climate change — are spending millions to mislead the public and muddy the existing scientific consensus in order to increase their profit margins. The Koch brothers have been very clear that they want free rein to pollute as much as they want and emit as much carbon into our atmosphere as they want while the rest of us suffer the consequences.
You can watch Reid addressing the senate in the video, below.
(Visited 9 times, 1 visits today)