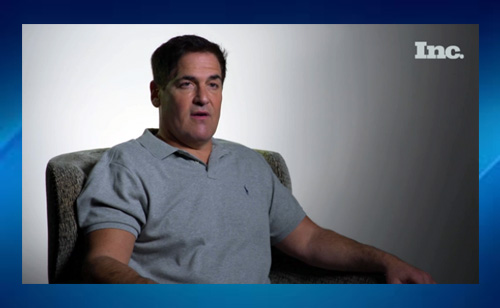 The Dallas Mavericks coach apologized to Trayvon Martin's family on Thursday for remarks he made at the Inc. GrowCo Conference in Nashville in front of over 900 attendees.
Mark Cuban was video taped during the conference being interviewed by Inc. President and Editor-in-Chief Eric Schurenberg who "re-confirmed an agreement the two had made before the interview: It was going to be a no holds-barred conversation," as reported on the Inc. website.
During the course of the interview, Cuban was asked whether the NBA should ban Clippers owner Donald Sterling for his racist remarks and he answered with the following:
"I think [NBA Commissioner] Adam [Silver] had to do it. There's a lot at stake for the NBA–it has to be a leader in the culture… but it's a slippery slope.

"You can't keep that ugliness out of the league. There's no law against stupid–I learned that a long time ago.
As Inc. reports in a supplemental article, "Cuban also admitted that prejudice is something everyone has to fight."
"I know I'm bigoted in a lot of different ways. If I see a black kid in a hoodie and it's late at night, I'm walking to the other side of the street. And if on that side of the street, there's a guy that has tattoos all over his face–white guy, bald head, tattoos everywhere–I'm walking back to the other side of the street. No one has pure thoughts… but it's about recognizing when you have thoughts that aren't right."
In the wake of the fallout in social media and other circles, Cuban took to Twitter to offer an apology to the Trayvon Martin family for his choice of words, noting that aside from the remarks about Trayvon Martin, he stands behind the substance of the interview.
In hindsight I should have used different examples. I didn't consider the Trayvon Martin family, and I apologize to them for that. [B]eyond apologizing to the Martin family, I stand by the words and substance of the interview. I think that helping people improve their lives, helping people engage with people they may fear or may not understand, and helping people realize that while we all may have our prejudices and bigotries we have to learn that it's an issue that we have to control, that it's part of my responsibility as an entrepreneur to try to solve it.
As reported by CNN: "CNN commentator and ESPN senior writer LZ Granderson said he thought Cuban was trying to have a nuanced conversation but didn't do it very well."
Granderson said he was disturbed that Cuban equated the hoodie stereotype — something he said has led to unjust treatment of African-Americans and even killings — to the stereotype of the tattooed white man.

"One has history and the other doesn't or the same sort of emotional response," Granderson said.
You can see the first of the five Tweet series below, followed by his interview with Inc.
P/1: In hindsight I should have used different examples. I didn't consider the Trayvon Martin family, and I apologize to them for that.

— Mark Cuban (@mcuban) May 22, 2014
(Visited 9 times, 1 visits today)