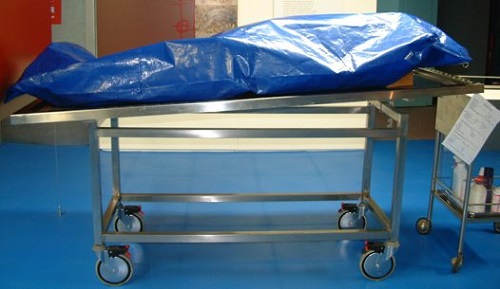 The Las Vegas Sun reported the Vegas Metro Police Department co-sponsored a "Choose Purity" event Saturday at the William Pearson Center.
Officer Regina Coward, president of the Nevada Black Police Association said she had been asked by her church, Victory Outreach Church, to create a community event to help push the message of abstinence.
A room of approximately 125 parents and children watched as the abstinence only agenda played out in front of them in the Toe Tag Monologues. Two girls gave dramatic performances: One girl's story was how she died after abusing diet pills. The other girl's story was about how she died as a prostitute after contracting a sexually transmitted infection (STI). The performances concluded with each girl climbing on to a gurney and into a body bag.
Coward was asked if she had recruited the actors in Toe Tag Monologues to illustrate that engaging in pre-marital sex results in death, she said "Yeah, because that's what's happening." She added four things typically happen when one engages in sex before marriage: sexual assault, gangs, drugs and prostitution. Avoid sex and avoid those perils, Coward warned.
Event guests watched recorded interviews with pimps and prostitutes, as well as seeing pictures of the effects of drug use. One of the grisly images shown to the crowd was of a man who had part of his face gnawed off by a methamphetamine user.
Laura Deitsch, a health educator for a local reproductive health organization for more than a decade, attended the event and disagreed with how the message was presented.
"Drugs are real. Sex trafficking is real. I don't know what is real about linking purity with those things. It was a hodgepodge of unrelated fear mongering," said Deitsch.
Coward said that the message of abstinence helps to prevent crime, and explained she is passionate about the issue because she became pregnant at the age of 16 and wondered if her life might have been different if she had been taught to say "No."
Coward added that a second event called "Choose Courage" is in the works for boys.
Deitsch complained the event wasn't inclusive of LGBTQ children.
Research conducted by the Johns Hopkins Bloomberg School of Public Health proves that some teens who take virginity pledges are just as likely to have sex as teens who don't promise to wait, but they are less likely to practice safe sex and experience a greater risk of contracting an STI or dealing with an unwanted pregnancy.
Deitsch said that although abstinence is a key part of comprehensive sex education, she didn't see any facts in this event that a girl could apply to her life, saying nothing presented had anything to do with public health.
"I wonder if anybody came away with the idea that premarital sex is criminal," she said.
---
(Visited 140 times, 1 visits today)