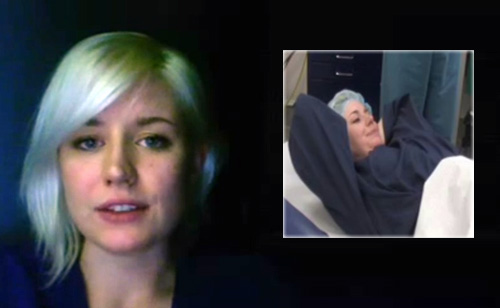 Emily Letts is a 25-year-old former professional actress and a counselor at a New Jersey women's clinic. After discovering she was dealing with an unwanted pregnancy, she decided to record her abortion on tape so that other women would see the procedure is safe.
Letts had been working at the Cherry Hill Women's Center for about a year when she learned she was pregnant. She talked about it in a column for Cosmopolitan. Letts explained she was not yet ready to become a parent and was not in a long-term relationship.
"I knew I wasn't ready to take care of a child," Letts wrote.
Letts said she decided to have an abortion at the Cherry Hill clinic where she is a counselor. She had only been pregnant for two or three weeks and wanted to see a video of what an abortion procedure really looks like but was unable to find one. She decided she would record her own. Her goal was to help educate other women who are dealing with unwanted pregnancies and who fear abortions
Letts wrote, "A first trimester abortion takes three to five minutes. It is safer than giving birth. There is no cutting, and risk of infertility is less than one percent. Yet women come into the clinic all the time terrified that they are going to be cut open, convinced that they won't be able to have kids after the abortion. The misinformation is amazing."
She explained that she chose a surgical abortion with local anesthesia with no IV sedation because she wanted to experience the kind of abortions that most women fear. Letts also wanted to be able to better relate the scared women she counsels. She said she doesn't want women to feel guilty if they choose abortion.
She says she hoped to inspire other women to not feel guilty about making the decision to have an abortion.
"Our society breeds this guilt. We inhale it from all directions. Even women who come to the clinic completely solid in their decision to have an abortion say they feel guilty for not feeling guilty," Letts wrote. "I didn't feel bad … and I am grateful that I can share my story and inspire other women to stop the guilt."
Elaborating on YouTube, Letts wrote:
This is my story. This is ONLY my story. I do not pretend that it is anything more or anything less. I do not speak for everyone on this sensitive subject and I respect everyone's opinions as long as they do not force them onto others.

My dearest hope is that someone somewhere will see this and it will provide some guidance, strength, support, or whatever else they need in that moment. I want to tell that person that you are not alone. Having an abortion does not make you a bad person, a bad woman, a bad mother. Having an abortion does not make you guilty. It is simply one step in your reproductive story. You are not along. I am here for you. We are all here for you.

PLEASE PLEASE SHARE THIS VIDEO. Please help me spread it to all corners of the internet. 1 in 3 women will have or have had an abortion in their reproductive life. This video is for all of us.
---
(Visited 26 times, 1 visits today)