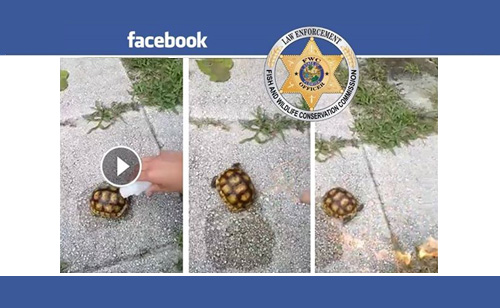 Two teenaged girls have been taken into custody in Florida after two videos were posted on Facebook showing them lighting a threatened gopher tortoise on fire and stomping it to death.
Two videos of the incident were posted on the Nevada Voters For Animals Facebook page showing the Orange Park girls dousing the tortoise with a flammable liquid and laughing as it tried to get away. The second video shows one of the girls stomping on the tortoise's shell until it breaks and the animal is clearly deceased.
The incident was then reported to the Florida Fish and Wildlife Conservation Commission (FWC), who launched an investigation, posting about the incident on their Facebook page.
"We have received multiple complaints about the videos posted to Facebook last evening showing the killing of a small gopher tortoise," the FWC reported in a Facebook post. "Our officers are investigating the case and are presently working with the State Attorney's Office to determine what charges may be filed."
FWC posted a supplemental notice on Friday announcing that "Danielle Susan Dionne, 15, and Jennifer Emoke Greene, 18, have been arrested on charges of felony cruelty to animals, a third-degree felony. They were also charged with a second-degree misdemeanor: taking, harassing, harming or killing a gopher tortoise."
(Visited 239 times, 1 visits today)