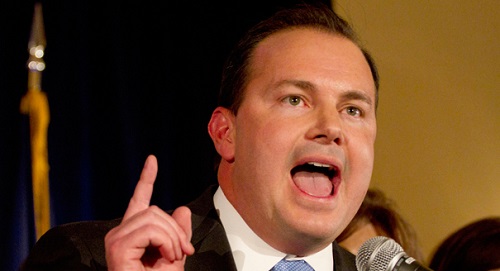 Sen. Mike Lee (R-UT) is yet another Republican politician weighing in on the sex lives of American women.
Think Progress reported that during an appearance on Sirus XM's The Wilkow Majority, show host Andrew Wilkow argued that the real question in Burwell v. Hobby Lobby Stores Inc., was about "whether or not a person who runs a business should be forced to provide something that is largely for recreational behavior, if it goes against their religious beliefs."
Lee answered, "Yeah, that's right, that's right," before he said  that "this administration is using the often coercive power of the federal government to force people into their way of being and their way of existing, their way of believing and thinking and acting."
These judgmental puritans seem to forget that conservative women also take birth control for a variety of reasons – and conservative women vote. Whether contraception is used for recreational, economical or medicinal reasons, it is not anyone's concern – certainly not some uptight male republican who might just be sexually frustrated.
Women – this is a pivotal time in history and it is more important than ever to vote. If you know young people who are not aware of what is happening, make sure they understand what is at stake. We need to set some midterm election records this November and show these Neanderthals that we have had enough of their BS!
Pledge to vote HERE and ask your friends to pledge.
---
(Visited 9 times, 1 visits today)