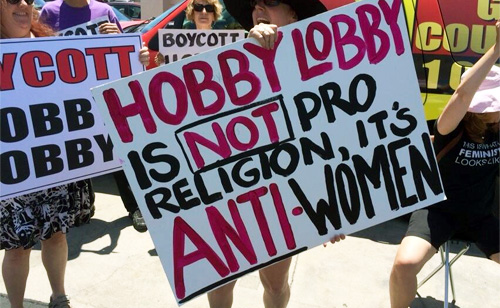 Progressives, liberals, conservatives, men women and children are taking to the streets to protest the recent Hobby Lobby ruling.
In New JerseyNorthJersey.com reports that "A dozen protesters sought to disrupt the Monday morning opening ceremony of the Hobby Lobby store on Route 46 and urged customers not to shop at a company that the Supreme Court ruled last week does not have to pay for insurance coverage for certain forms of birth control."
"One, two, three, four, let's go shop at A.C. Moore," they chanted. "Stay away until they pay."
In Kansas, Fox4KC reports that "A group organized by Kansas Young Democrats picketed the Hobby Lobby store in Lawrence Monday morning."
In California, CBS Los Angeles reports that "Dozens of protesters Monday gathered at a Hobby Lobby store in Burbank in response to last week's Supreme Court decision," adding that "members of pro-choice groups like Planned Parenthood and the National Organization of Women were on hand to encourage shoppers to boycott the store's grand opening."
AZ3TV reports that protesters are rallying in Phoenix. "In my own heart, this is about respecting our own bodies, separation of church and state, respecting women's bodies and men's bodies," says demonstrator Sheila Ryan. Demonstrator Panayiota Bertzikis, who is with NOW, adds: "We want females to have basic health care rights and not have it taken away from them by their employers."
Below are a couple of local news clips about the protests in their area.
From AZ3TV: Protesters gather at Hobby Lobby, rally against Supreme Court ruling



From NorthJersey.com: Protesters disrupt opening of Hobby Lobby store


(Visited 18 times, 1 visits today)