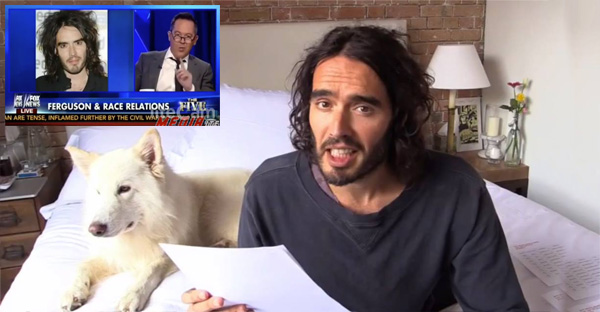 And, the delicious feud between Fox News and Russell Brand continues…
Basically, the comedian/actor/activist, Russell Brand, has been very vocal about his problem with the Fox News coverage of the Ferguson protests, the Middle East conflict, the Climate Crisis and the the definition of 'Conservative. He also accuses Fox for using Jason Riley, a black host, to stir up contempt against the Ferguson protest. It's not Fox's first attempt at doing so. Here is another story titled: Her Royal Whiteness, Megyn Kelly, Baits A Black Pastor & Gets Punked (VIDEO)
Greg Gutfield called Brand a 'Leftist Commie Scum,' a 'racist' and describes Brand as having developed "fake intelligence" like a "freshman at college".
Geez, did Gutfield have to go and bring up college, when many of the Conservative talking heads allegedly never attended college or are dropouts? What was he thinking?
Here is the video. It's the crude and hilarious Russell Brand at his best. Note this video is rated: NSFW (Not Suitable For Work – Might not be the best idea to play this while at work, with volume on, or when kids are present).
One of my favorite quotes in the video is when Brand criticizes Fox New's definition of Conservatives.
"They say Conservatives… What they are 'conserving,' actually – it's hatred they're trying to conserve, misery, they're trying to conserve, existing power structures, they're trying to conserve."
Yep. Many Americans couldn't agree more. Russell Brand continues to expose Fox and sites truth seeking groups like Media Matters and environmentalist organizations like Union of Concerned Scientists. How great we have a well-known British activist and comedian calling out Fox News. We love him for it. And they just hate him for it.
For more on the story: Independent.co.uk Special thanks to Rachel Christine.Diary also posted in Daily Kos.
---