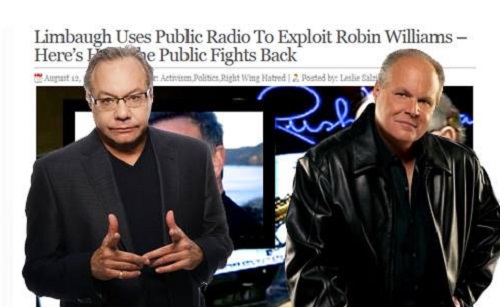 Comedian Lewis Black told Rush Limbaugh "F*ck you…" in a Facebook post regarding Limbaugh's insensitive and inflammatory comments politicizing Robin Williams' suicide.
"He had it all but he had nothing. Made everybody else laugh but was miserable inside," Limbaugh said. "I mean, it fits a certain picture or a certain image that the left has. Talk about low expectations and general unhappiness and so forth.
"He could never get over the guilt that they died [Christopher Reeve, John Belushi, and Andy Kaufman] and he didn't," Limbaugh said. "Well, that is a constant measurement that is made by political leftists when judging the country."
Black responded by saying:


It should come as no surprise that Limbaugh is whining that his comments were "misquoted, purposely taken out of context" by the liberal media. He claims he was merely criticizing the media's coverage, "They are the ones trying to tell us why," he said. "They are the ones trying to explain it. They are the ones justifying it. They are the ones glorifying it. I don't presume to know why Robin Williams committed suicide," he said. "I didn't know yesterday, and I don't know today."
Limbaugh seems to be unaware that people can hear, read and have memories.
Black wrote a piece for Time about Williams:
"I had met him before, but I really got to know him when we went on two USO [United Service Organization] tours together [in the late 2000s], and spent time with him on the film Man of the Year.

The first thing was: I got on a plane with him, and he was reading a book which was a history of Iraq. He sat there and talked about it for 35 minutes, going through the history of Iraq with us. That's astonishing. I thought, this guy is kind of brilliant. He was a really bright guy who may have had a photographic memory."
To help remove Limbaugh from public radio here are things you can do:
(Visited 210 times, 1 visits today)