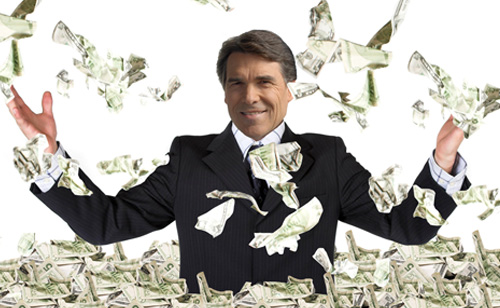 It appears that the State of Texas is stuck paying Rick Perry's initial legal fees.
On August 15th Rick Perry became the first Texas governor in nearly 100 years to face criminal charges after being indicted on two felonies for abusing the power of his office and for coercion of a public servant.
Perry announced last Wednesday through his spokesperson that he would tap into his campaign funds to pay for his legal defense against those charges. However, as The Texas Tribune reports, he had been using taxpayer money to pay his defense lawyers. According to The Texas Tribune, "State records show taxpayers have spent about $80,000 so far to represent Perry as he faced criminal investigation. "
A few days later, The Tribune reported that "it was unclear whether his campaign would repay the $80,000 in state funds that Texas Comptroller Susan Combs had already authorized be paid to the firm of one of his criminal defense attorneys, David Botsford." However, according to The Tribune,
When asked on Saturday at the Rochester Fairgrounds whether his campaign would cover those costs, the governor said: "There were a number of people around the state who were required, because of this lawsuit, to hire legal counsel, and appropriately, the state's picking up that cost because their actions were as state employees."

Felix Browne, a Perry spokesman, confirmed that Perry would not use his campaign funds to pay those initial bills. Asked whether the $80,000 included legal services for state employees other than Perry, Browne said he would look into it.
In its original article on the subject, The Texas Tribune reported that "Texas Ethics Lawyer Buck Wood…said he knows of no case in which a state politician has used government money to pay his private attorneys."
"There is absolutely no precedent for it. No one has ever even attempted anything like this.

The theory is that there is no state interest in paying for anybody's criminal defense. Once he's indicted, nothing about that defense is in the public interest."
The Tribune adds that
"The matter ultimately could be decided in an expected legal opinion to be delivered on the subject from Attorney General Greg Abbott, the Republican nominee for governor. State Rep. Joe Deshotel, D-Beaumont, has asked Abbott to clarify whether using taxpayer funds to pay the fees is legal, and Abbott spokesman Jerry Strickland said his office would reply in "due course of law like every other legal opinion."
Unsurprisingly, Democrats have highlighted this highly unusual case of taxpayer-funded legal fees with Matt Angle, head of the Democratic Lone Star Project, noting: "Perry should have to cover his legal expense. It's extraordinary and indefensible that Greg Abbott and Rick Perry would want taxpayers to pay to both prosecute him and defend him."
Please take a moment and Like Liberals Unite on Facebook.

(Visited 8 times, 1 visits today)