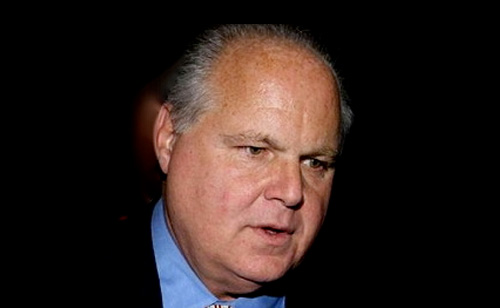 Rush Limbaugh is having a terrible year. He continues to lose national and local sponsors. His radio industry rankings are plummeting. He's mocked by the Left and Right. And now he's losing more and more radio stations.
Last week, Daily Kos reported:
Clear Channel just flipped Limbaugh's WPGB in Pittsburgh to country music. It had fallen to 11th in Pittsburgh, echoing hate radio's plummeting popularity across the country. He got picked up by the smaller WJAS in Pittsburgh, owned by Radio Partners LLC, and 7,000 watts compared to WPGB's 15,000. It is AM to boot, so likely suffers more from interference than the FM WPGB would. Pittsburgh is considered the 25th largest radio market in the U.S.
Much, if not all, of Limbaugh's woes are due to activist groups like BoycottRush, FlushRush, and StopRush, as well as the general public. Hundreds of thousands of folks have been protesting, petitioning, and boycotting Limbaugh's sponsors, especially after his 3-day on air rant against then unknown, Sandra Fluke. It's a wonderful thing to see the people finally speak up and work together to take down a hate monger who's been spewing racism, misogyny, and homophobia for 25 years. His method of operation? He intentionally uses shock, while provoking fear and anger. Sadly for self-proclaimed El Rushbo, (and happily for the rest of us) it's no longer working for him.
To join the movement against Rush Limbaugh and Hate Radio:
Special thanks to Richard Meyers. Rest in peace. We will finish this.
---